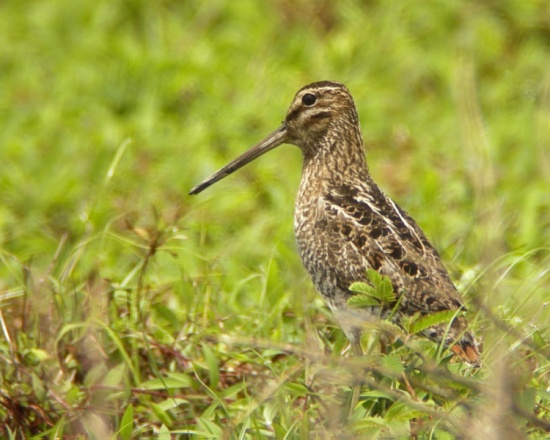 Alternative name: Paraguayan Snipe
Gallinago paraguaiae
Identification
27-29 cm

Mottled whitish, buff and rufous on brownish-black upperparts
Pale underparts with fine mottle and/or stripes
Long straight dark bill
Dark eye stripe
Light stripes above and below eye
Pointed wings
Tail rufous with white tips
Short yellowish legs
Similar species
Looks very similar to Pantanal Snipe but differs in sounds given on breeding grounds. These two species mostly do not overlap in their range except maybe during southern winter. Possibly helpful in view is more rufous and less black on the upperside and more buff with less noticable markings on the underside of Magellanic Snipe. Separation from Wilson's Snipe probably needs sounds or measurements in the hand.
Distribution
South America east of the Andes: Eastern Colombia to the Guianas, Brazil, northern Argentina and Trinidad.
Taxonomy
This is a monotypic species[1].
Magellanic Snipe and Pantenal Snipe were formerly considered one species under the name of South American Snipe (originally, Puna Snipe was also included).
Habitat
Swamps, marshes and wet grassy areas.
Behaviour
Breeding
A ground-nester, the nest is well concealed in a depression. The two buff eggs are incubated by both adults for about 19 days.
Diet
The diet includes insects, worms and plants, which is found by probing into soft mud.
Sounds
This species gives two types of vocalization from the ground which consists of repeat of one element repeated at either 5 or 11 elements per second. Additionally, it produces a winnowing that increase gradually in duration and amplitude (strength of sound) over each element, until just before its end.
References
Clements, J. F., T. S. Schulenberg, M. J. Iliff, S. M. Billerman, T. A. Fredericks, J. A. Gerbracht, D. Lepage, B. L. Sullivan, and C. L. Wood. 2021. The eBird/Clements checklist of Birds of the World: v2021. Downloaded from https://www.birds.cornell.edu/clementschecklist/download/
A paper describing analysis of sounds from Pantanal Snipe and Magellanic Snipe
Van Gils, J., P. Wiersma, G. M. Kirwan, P. C. Rasmussen, and P. F. D. Boesman (2021). Paraguayan Snipe (Gallinago paraguaiae), version 1.0. In Birds of the World (P. C. Rasmussen, Editor). Cornell Lab of Ornithology, Ithaca, NY, USA. https://doi.org/10.2173/bow.soasni2.01
Recommended Citation
External Links
GSearch checked for 2020 platform.