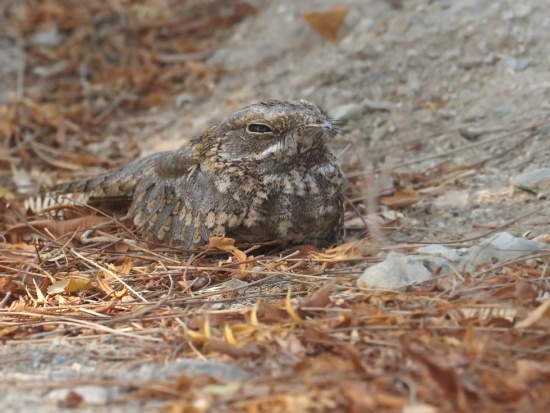 ]
Caprimulgus nubicus
Identification
21–22 cm (8¼-8¾ in)
Grey or buff upperparts with much black streaking
Crown may have rufous streaks or spots
Tawny nuchal collar
White throat patch
Buff underparts with brown bars

Male
Large white spots on 4 outer primaries
Broad white tips to outer tail feathers

Female has smaller wing and tail spots
Distribution
Middle East and eastern Africa
Middle East: found inIsrael and Jordan
Eastern Africa: Sudan, Eritrea, Ethiopia, Djibouti, Somalia, Kenya, Uganda, Tanzania
African Islands: Socotra
Taxonomy
Subspecies
There are 4 subspecies[1]:
Habitat
Dry scrubland with acacia, often near water, sparsely vegetated wadis. Bush coastal dunes
Behaviour
Diet
Their main diet consists of moths, grasshoppers and beetles, taken in flitting flight often over water. They will also forage on the ground amongst animal dung.
Breeding
The clutch contains 1-2 lilac blotched, white eggs which are laid directly on the ground usually under a thorn bush.
References
Clements, J. F., T. S. Schulenberg, M. J. Iliff, S. M. Billerman, T. A. Fredericks, B. L. Sullivan, and C. L. Wood. 2019. The eBird/Clements Checklist of Birds of the World: v2019. Downloaded from http://www.birds.cornell.edu/clementschecklist/download/
Lepage D. (2020) Avibase d. Retrieved 11 September 2020
Recommended Citation
External Links