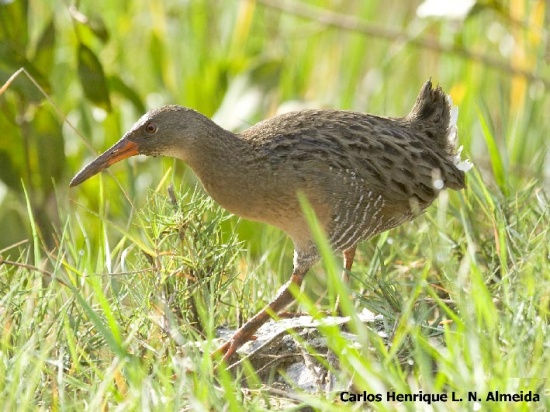 Rallus longirostris
Identification
A large rail with a long, slender and slightly decurved bill.
33 cm in length, male average 20% larger than female
Dull grey-brown upperparts with darker feather centres
White loral streak, grey face
Whitish throat
Tawny-buff breast
Black and white barred flanks
Variation
cypereti paler above and with paler bars on flanks
phelpsi is pale but darker on crown and upperparts
margaritae is the darkest subspecies with bolder barring on flanks
pelodramus is small like margaritae but paler
crassirostris is like nominate but darker on head and upperparts and darker and more cinnamon below
Sexes similar.
Distribution
Found along the coasts of northern South America from Ecuador to Colombia, Venezuela, the Guayanas and Brazil. Also along the Pacific coast of Central America.
Taxonomy
Formerly included in Clapper Rail together with Ridgway's Rail.
R. wetmorei, the Plain-flanked Rail, is now considered to be split from R. longirostris.
Subspecies1
R. l. berryorum - On the Pacific coast of eastern El Salvador, Honduras and northern Nicaragua, probably also in northwestern Costa Rica
R. l. cypereti - Coastal south-western Colombia to Ecuador (where rare) and just into north-western Peru (Tumbes)
R. l. phelpsi - Coastal northern Colombia (Guajira) and northern Venezuela (east to eastern Miranda)
R. l. dillonripleyi - Coast of northeastern Venezuela (Sucre)
R. l. margaritae - Margarita Island (Venezuela)
R. l. pelodramus - Trinidad
R. l. longirostris - Coasts of Guyana, Suriname and French Guiana
R. l. crassirostris - Coastal eastern Brazil (Amazon estuary to Santa Catarina)
Habitat
Grassy marches and mangroves.
Behaviour
Diet
These birds eat crustaceans, aquatic insects and small fish. They search for food while walking, sometimes probing with their long bills, in shallow water or mud.

This bird is rarely seen flying, which is reflected in the many subspecies found across its range.
References
Clements, J. F., T. S. Schulenberg, M. J. Iliff, S. M. Billerman, T. A. Fredericks, J. A. Gerbracht, D. Lepage, B. L. Sullivan, and C. L. Wood. 2021. The eBird/Clements checklist of Birds of the World: v2021. Downloaded from https://www.birds.cornell.edu/clementschecklist/download/
Gill, F and D Donsker (Eds). 2014. IOC World Bird Names (version 4.4). Available at http://www.worldbirdnames.org/.
Birdforum thread discussing the taxonomy of Clapper Rail
Recommended Citation
External Links
GSearch checked for 2020 platform.