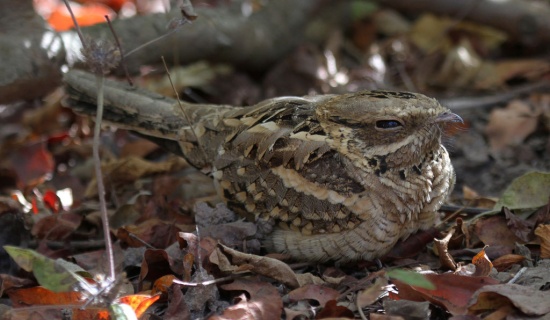 Caprimulgus climacurus
Identification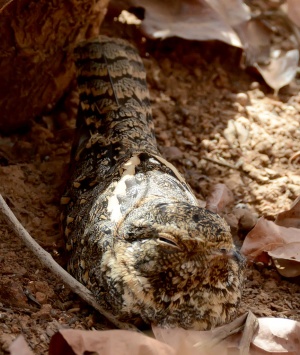 Length 28-43 cm (11-17 in). Small-bodied with a long tail.
Sexually dimorphic.
Variable in colour ranging from pale brown, brown and greyish-brown to sandy-buff.
Upperparts and wing-coverts generally greyish-brown, finely streaked brown

Male
White line across forewing
Broad tawny or buff nuchal collar
White throat patch
Pale brown underparts, speckled and barred pale buff, becoming buff thinly barred brown on belly and flanks
Broad white band across five outermost primaries and white trailing edge to inner wing
Tail graduated, central pair longest, outer tail feathers edged and tipped white
Bill brown, legs and feet brownish

Female:
Buff or buffish-white line across forewing
Buffish-white wing band and buff or buffish-white trailing edge to inner wing
Sshorter-tailed with outer feathers edged and tipped buff
Iris brown
Immature similar to adult female but paler.
Variations
Subspecies nigricans distinctive, generally blackish, male often longer-tailed
Subspecies sclateri more rufous, but variable in colour.
Similar Species
Has notably longer tail than Slender-tailed Nightjar and Square-tailed Nightjar, and is generally paler.
Distribution
Africa: found from Senegambia to Ethiopia, Uganda and DRC.
Taxonomy
Subspecies
Caprimulgus climacurus has three subspecies:[1]:
Habitat
A wide variety of different habitats, from arid semi-desert through to savanna and clearings in lowland forest.
Behaviour
Diet
Their diet consists of beetles, winged termites, moths, mantids, bugs, ants and grasshoppers. They feed in flight.
Vocalisation
Rapid churring.
References
Clements, J. F., T. S. Schulenberg, M. J. Iliff, D. Roberson, T. A. Fredericks, B. L. Sullivan, and C. L. Wood. 2017. The eBird/Clements checklist of birds of the world: v2017, with updates to August 2017. Downloaded from http://www.birds.cornell.edu/clementschecklist/download/
Sinclair, I and P Ryan. 2003. Birds of Africa South of the Sahara. Princeton: Princeton Univ. Press. ISBN 978-0691118154
Handbook of the Birds of the World Alive (retrieved May 2018)
Recommended Citation
External Links
Search the Gallery using the scientific name:

Search the Gallery using the common name:
GSearch checked for 2020 platform.