This article is incomplete.
This article is missing one or more sections. You can help the BirdForum Opus by expanding it.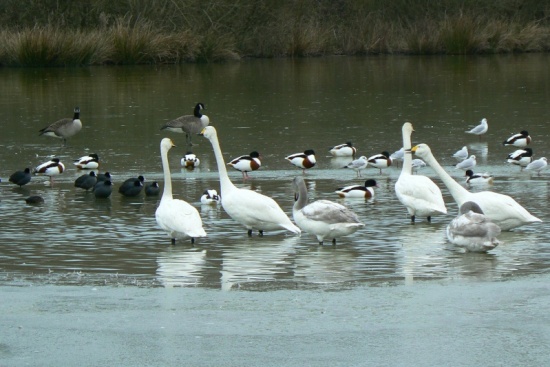 Overview
The Llanelli WWT site opened in 1991; formerly known as Penclacwydd, it lies on the Burry Inlet south of Llanelli. It is also know as the National Wetlands Centre of Wales (Canolfan Gwlyptir Genedlaethol Cymry) and is part of the Wildfowl and Wetlands Trust.
Habitats include areas of saltmarsh and mudflats, wet meadows, reedbeds, scrapes and a specially constructed lagoon.
The site also houses a collection of captive swans, geese and ducks.
It now also gives access to the larger Millennium Wetlands area with more lakes, scrapes and woods.
Birds
Notable Species
Wintering wildfowl include Red-breasted Merganser, Goldeneye, Teal, Wigeon, Pintail, Brent Goose and Whooper Swan.
Waders may include Eurasian Oystercatcher, Eurasian Curlew, Common Redshank, Spotted Redshank, Common Greenshank, Eurasian Golden Plover, Grey Plover, Red Knot and Bar-tailed Godwit. Black-tailed Godwit are present all year round. Water Rail and Jack Snipe also winter but are secretive.
Other waders seen on passage include Whimbrel, Ruff, Common Sandpiper, Green Sandpiper, Wood Sandpiper, Curlew Sandpiper and Little Stint.
Raptors may include Hen Harrier, Merlin and Short-eared Owl.
Little Egret is now common and roosts in large numbers on the estuary.
Rarities
In addition there is the possibility of rarities such as Spoonbill. There have been occasional records of North American vagrant waders and gulls.
Check-list
Birds you can see here include:
Great Cormorant, Grey Heron, Little Egret, Mute Swan, Whooper Swan, Greylag Goose, Canada Goose, Common Shelduck, Eurasian Wigeon, Gadwall, Common Teal, Mallard, Northern Pintail, Garganey, Northern Shoveler, Common Pochard, Tufted Duck, Red-breasted Merganser, Western Marsh Harrier, Hen Harrier, Eurasian Sparrowhawk, Common Kestrel, Merlin, Northern Hobby, Peregrine Falcon, Water Rail, Common Moorhen, Eurasian Coot, Little Ringed Plover, Ringed Plover, Eurasian Golden Plover, Grey Plover, Northern Lapwing, Red Knot, Little Stint, Curlew Sandpiper, Ruff, Jack Snipe, Black-tailed Godwit, Bar-tailed Godwit, Whimbrel, Eurasian Curlew, Spotted Redshank, Common Redshank, Common Greenshank, Green Sandpiper, Wood Sandpiper, Common Sandpiper, Black-headed Gull, Herring Gull, Great Black-backed Gull, Common Tern, Arctic Tern, Eurasian Collared Dove, Short-eared Owl, Eurasian Skylark, Pied Wagtail, Common Wren, Dunnock, Eurasian Robin, Eurasian Blackbird, Fieldfare, Song Thrush, Redwing, Sedge Warbler, Common Reed Warbler, Lesser Whitethroat, Common Whitethroat, Blackcap, Common Chiffchaff, Willow Warbler, Common Grasshopper Warbler, Common Magpie, Carrion Crow, Common Starling, House Sparrow, Chaffinch, European Greenfinch, Eurasian Bullfinch, European Goldfinch, Reed Bunting
Other Wildlife
To do
Site Information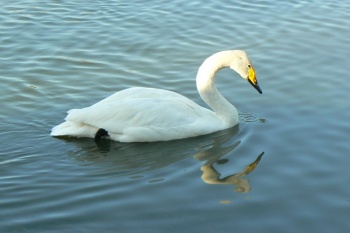 October to April is the best time to visit Llanelli with peak waterfowl numbers in January.
History and Use
To do
Areas of Interest
To do
Access and Facilities
To reach the Llanelli WWT site, take exit 48 from the M4, head south and follow the duck signs.
An ideal family destination with shop and education centre, toilet facilities and restaurant. Hides and observation towers overlook the best areas for wild birds.
There is an entrance fee for non-members and the Trust is open 9.30 am to 5.00pm daily.
Contact Details
WWT National Wetland Centre Wales
Llwynhendy, Llanelli, Carmarthenshire SA14 9SH
Telephone: 01554 741087
Fax: 01554 744101
External Links
Content and images originally posted by Alan R