Alternative names: Butung Hornbill; Red-knobbed Hornbill; Sulawesi Wrinkled Hornbill; Celebes Wrinkled Hornbill
Rhyticeros cassidix
Identification
70-80cm. A large hornbill with a white tail and a high casque.
Male
Black body
Deep rufous crown and nape
Paler rufous to creamy head sides and neck
Yellow bill with orange and brown ridged base, red wrinkled casque
Pale blue bare skin around eye
Dark blue and black bare throat skin
Female
Smaller than male
Black head and neck
Yellow casque
Throat skin with only small black band
Juveniles like adult male but with a small, plain yellow bill without casque
Distribution
Endemic to Sulawesi (Indonesia) and some adjacent offshore islands (Lembeh, Togian Islands, Muna and Butung).
Locally common.
Taxonomy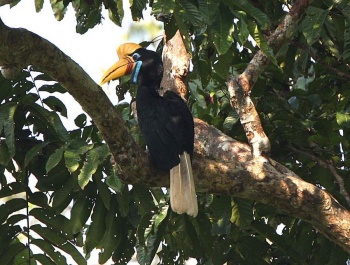 This is a monotypic species.
May form a superspecies with Walden's Hornbill, Wrinkled Hornbill and Writhed Hornbill.
Formerly placed in genus Aceros.
Habitat
Evergreen forest. Occurs up to 1800m.
Behaviour
The diet consists mainly of fruits and figs. Takes also some insects, bird eggs and nestlings.
Forages mainly in the canopy.
Breeding season starts June to September. The nest is placed in a natural hole in a large tree. The female sealed itself inside a tree hole for egg-laying. During this time, the male will provide foods for the female and the young. Raises usually one chick.
References
Clements, J. F., T. S. Schulenberg, M. J. Iliff, D. Roberson, T. A. Fredericks, B. L. Sullivan, and C. L. Wood. 2015. The eBird/Clements checklist of birds of the world: v2015, with updates to August 2015. Downloaded from http://www.birds.cornell.edu/clementschecklist/download/
Del Hoyo, J, A Elliot, and J Sargatal, eds. 2001. Handbook of the Birds of the World. Volume 6: Mousebirds to Hornbills. Barcelona: Lynx Edicions. ISBN 978-8487334306
Recommended Citation
External Links
GSearch checked for 2020 platform.1