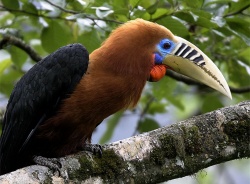 Genus: Aceros
Description
A single species from Asia.
Taxonomy
Aceros is a genus in the family Bucerotidae.
White-crowned Hornbill and the species of the genus Rhyticeros are sometimes included in this genus. Several species have also been moved to the genus Rhabdotorrhinus.
References
Del Hoyo, J, A Elliot, and J Sargatal, eds. 2001. Handbook of the Birds of the World. Volume 6: Mousebirds to Hornbills. Barcelona: Lynx Edicions. ISBN 978-8487334306
Recommended Citation
Pages in category 'Aceros'
This category contains only the following page.