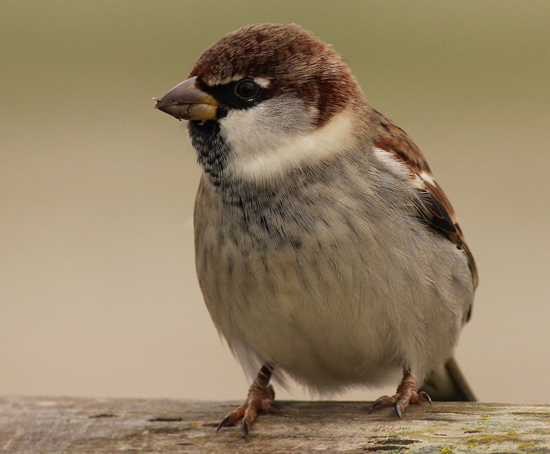 Passer italiae
Identification
L 14-16 cm (5½-6¼ in)
Male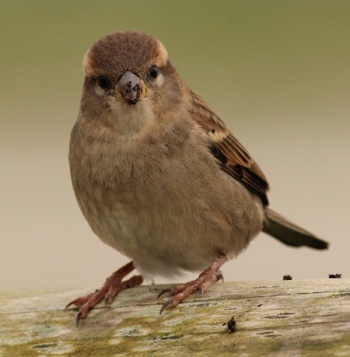 Brown crown with chestnut sides
Black lores and eye region
Bold black bib with whitish throat sides, most prominent in the breeding season. White cheeks.
Heavily black-streaked brownish back
Broad white wing-bar
Horn-coloured bill (black in non-breeding season)
Female
Duller without head pattern
Cream eyestripe (lacking in the male)
Heavily black-streaked brownish back
Juveniles are similar to females but paler and more washed-out
Similar species
Especially females are similar to females of other species like House Sparrow, Spanish Sparrow, Russet Sparrow or Iago Sparrow. Sind Sparrow is very similar but smaller.
Distribution
Southern Switzerland, Italy, Corsica, Sicily and Crete.
Taxonomy
This is a monotypic species.
It has traditionally been included in House Sparrow, but some authorities think it is a form of Spanish Sparrow, some think it may be a stable population of hybrids between House and Spanish Sparrows, and more and more sources are now treating it as a full species (as an example of hybrid speciation). Below is a link to a discussion thread on the taxonomic status of this form.
Habitat
Mostly human settlement.

Behaviour
Breeding
Nests of grass, wool, feathers and other soft materials are made in holes in buildings or other structures, though house sparrows will also breed in thick ivy and natural structures. The clutch consists of 4-5 glossy pale blue eggs which are incubated for about 12 days. The young fledge after about 3 weeks. There may be up to 4 broods in the season which runs from April to August, though 2-3 broods is more normal.
Diet
Includes seeds, soft buds, fruit, insects, spiders and any food scraps from humans or on bird tables.
Vocalisation
Similar to House Sparrow
References
Clements, J. F., T. S. Schulenberg, M. J. Iliff, S. M. Billerman, T. A. Fredericks, B. L. Sullivan, and C. L. Wood. 2019. The eBird/Clements Checklist of Birds of the World: v2019. Downloaded from http://www.birds.cornell.edu/clementschecklist/download/
Del Hoyo, J, A Elliott, and D Christie, eds. 2009. Handbook of the Birds of the World. Volume 14: Bush-shrikes to Old World Sparrows. Barcelona: Lynx Edicions. ISBN 978-8496553507
Recommended Citation
External Links
GSearch checked for 2020 platform.1