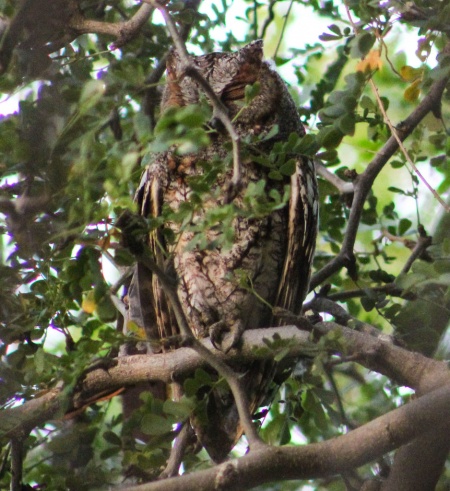 Psiloscops flammeolus
Identification
16-17 cam (6¼-6¾ in, wingspan 33 cm; a very small owl
It is the only small owl in North America with dark eyes (rather than yellow.) It has a grayish-brown body with cinnamon area on scapulars and reddish brown face disk (especially in the southern parts of its range is a rufous color phase also common). Ear tufts are very small, often not noticeable.
Distribution
North and Central America
Summer breeding range includes Sonoran desert of Mexico into Arizona, most of Utah, parts of New Mexico, Colorado, Wyoming, Idaho, Oregon, Washington, Nevada, California, and southern British Columbia. Common within range, and highly migratory, with occasional sightings as far east as Florida.
Winters to Guatemala and El Salvador.
Taxonomy
This is a monotypic species.
It was formerly included in the genus Otus.
Habitat
Open mixed oak and conifer forests in mountainous areas of the American West.
Behaviour
The natural history of this owl is poorly understood.
Diet
Mostly insectivorous, almost entirely nocturnal insects, particularly owlet moths, beetles and crickets. They will also take small mammals and birds.
Breeding
References
Clements, J. F., T. S. Schulenberg, M. J. Iliff, D. Roberson, T. A. Fredericks, B. L. Sullivan, and C. L. Wood. 2017. The eBird/Clements checklist of birds of the world: v2017, with updates to August 2017. Downloaded from http://www.birds.cornell.edu/clementschecklist/download/
BF Member observations
König, C. and F. Weick 2008. Owls of the World, second edition. Christopher Helm, London. ISBN 978-0-7136-6548-2
Handbook of the Birds of the World Alive (retrieved May 2018)
Recommended Citation
External Links