Alternative names: Guiana Crested Eagle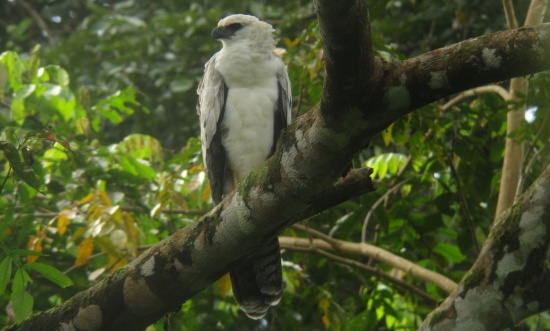 Morphnus guianensis
Identification
Length 71-84 cm, wingspan 138-176 cm, weight 1.3-3 kg.
A medium-large, short-winged, long-tailed forest eagle; female slightly larger than male. Two morphs; dark morph is blackish above, with blackish head and upper breast, and strongly barred lower breast and belly; light morph is also blackish above, but with pale grey head and upper breast, and white lower breast and belly with only very faint barring. Tail of both morphs with broad black and white bands.
Similar species
Harpy Eagle has similar plumage pattern, but is substantially larger, and relatively shorter-tailed; head pale grey (as pale morph Crested Eagle) but always with contrasting black throat band (as dark morph Crested Eagle).
Distribution
Central and South America: breeds in Central America in Guatemala, Honduras, Costa Rica and Panama and in South America from Colombia, Venezuela (rare) and the Guianas south to western Ecuador and Bolivia, Paraguay, south-east Brazil and north-east Argentina.
Resident. Rare and local.
Taxonomy
This is a monotypic species[1].
Habitat
Lowland primary rainforest, up to 600 m altitude, rarely to 1,000 m altitude. Does not tolerate deforestation, and population in decline through habitat loss; also vulnerable to illegal hunting.
Behaviour
Soars high over forest singly or in pairs and often perches on the highest treetops or hunts from a riverside perch. Hunts medium-sized mammals, reptiles and birds, both in tree canopy and on the ground below.
References
Clements, JF. 2010. The Clements Checklist of Birds of the World. 6th ed., with updates to December 2010. Ithaca: Cornell Univ. Press. ISBN 978-0801445019. Spreadsheet available at http://www.birds.cornell.edu/clementschecklist/Clements%206.5.xls/view
Del Hoyo, J, A Elliot, and J Sargatal, eds. 1994. Handbook of the Birds of the World. Volume 2: New World Vultures to Guineafowl. Barcelona: Lynx Edicions. ISBN 978-8487334153
Recommended Citation
External Links