This article is incomplete.
This article is missing one or more sections. You can help the BirdForum Opus by expanding it.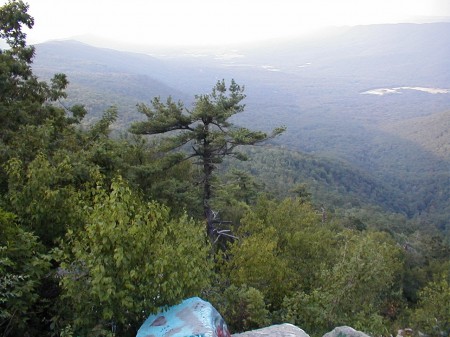 Overview
The Cowans Gap State Park, surrounded by the Buchanan State Forest, encompasses approximately 1, 085 acres/439 hectares of the Allens Valley in Fulton County, Pennsylvania.
It has a large lake with a good variety of amenities such as camping, hiking, etc to make your birding trip an enjoyable one. [1]
Birds
Notable Species
The Ruffed Grouse is the official state bird of Pennsylvania and as such leads off this discussion about notable birds. According to the official state website, it was an important food source for early settlers in the region and is still a commonly seen species in forests today. [2]

Fulton County, of which Cowans Gap State Park is a part, lists 251 species as having been reported there with 6 globally threatened species and 2 extinct species. [3]
Rarities
Species reported as rare for this area include the Cackling Goose and Hoary Redpoll. [3]
Check-list
Birds you can see here include:
Canada Goose, Red-breasted Merganser, Northern Bobwhite, Ruffed Grouse, Horned Grebe, Mourning Dove, Black-billed Cuckoo, Common Nighthawk, Ruby-throated Hummingbird, Sora, Semipalmated Plover, Stilt Sandpiper, Greater Yellowlegs, Ring-billed Gull, Common Loon, Double-crested Cormorant, Great Blue Heron, Turkey Vulture, Osprey, Northern Harrier, Great Horned Owl, Belted Kingfisher, Red-headed Woodpecker, Merlin, Eastern Wood-Pewee, Yellow-throated Vireo, Northern Shrike, American Crow, Black-capped Chickadee, Horned Lark, Purple Martin, Ruby-crowned Kinglet, White-breasted Nuthatch, Brown Creeper, Blue-gray Gnatcatcher, Winter Wren, European Starling, Brown Thrasher, Veery, Cedar Waxwing, House Sparrow, American Pipit, Pine Grosbeak, Pine Siskin, Snow Bunting, Chipping Sparrow, Swamp Sparrow, Yellow-breasted Chat, Eastern Meadowlark, Worm-eating Warbler, Canada Warbler, Scarlet Tanager, Indigo Bunting.
Other Wildlife
Expect to find a variety of wildlife here beyond birds. There are squirrels, chipmunks, turkeys, deer, and bears.
Site Information
History and Use
To do
Areas of Interest
To do
Access and Facilities
Cowans Gap State Park is north of US Highway 30 between Chambersburg and McConnellsburg in Pennsylvania.
GPS Coordinates: Lat. 39.99478 Long. -77.9249
This is an area in the midst of a variety of major commercial airports.
Consult a trusted travel professional for advice as well as specific up-to-date information.
Contact Details
Cowans Gap State Park
6235 Aughwick Road
Fort Loudon, Pennsylvania 17224-9801
Phone: 717-485-3948
Email: [email protected]
References
Cowans Gap State Park - Official Pennsylvania Dept of Conservation and Natural Resources site https://www.dcnr.pa.gov/StateParks/FindAPark/CowansGapStatePark/Pages/default.aspx
Pennsylvania State Symbols – Official Site - https://www.pa.gov/guides/state-symbols/
Lepage D. (2020) Fulton Bird Checklist - Avibase - Bird Checklists of the World. Retrieved 11 September 2020
Recommended Citation
External Links
To do
Maps
Reviews
Over 1000 acre's of beauty. Picnicking-Fishing-Swimming (man made beach) Hunting-Boat Rentals-10 miles of hiking trails-Food/Concession Stand. 224 campsites with 10 rustic cabins to rent in the spring/summer and beautiful fall time that have refrigerators,stoves,fire place and 2 sets of bunk beds. "Winter Activities" are Ice Fishing/Ice Skating Also Wild life educational programs. You can see deer in the day. And several birds (use to people) Song Birds- Eastern Meadowlark, Pheasant and Wild Turkey roaming around. Pictures are only of the look out point at the end of park. Which you can see the four surrounding states from. And hear the sounds of the amazing Bald Eagle, Red-tailed Hawk, Falcons etc....And see the beauty of them soaring around the steepest valley I've ever seen but not everyday is a lucky day and patience is your friend. Surrounding the outer area's of this park are beautiful mountains, streams and to much to mention. Several miles East of this park is the Old Broad Top Rail Road Station in Orbisonia that offers rides through the surrouding forrest. Covered Bridges and clear streams for fishing will have you wanting to move there within an hour of your visit. Content and images originally posted by julkat