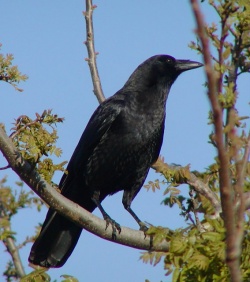 Genus: Corvus
Description
Jackdaws, Crows, Ravens, and Rooks is a genus with almost world-wide distribution, occuring in all continents except South America.
They share:
Strong, stout legs ending in well-clawed, grasping feet
Large heads
Powerful bills
A black, sometimes black-and-white (or grey) plumage
The members of this genus are generally rather similar and sometimes difficult to tell apart. Most species are highly sociable and many live near humans, sometimes in big cities. Some species are known for their intelligence and even use simple tools like sticks to get their food. As they live near or with men they also found their way into human culture.
Taxonomy
Corvus is a genus in the family Corvidae.
As the two Jackdaws differ morphologically, behaviourally and genetically they are sometimes placed in their own genus Coloeus. White-necked Raven and Thick-billed Raven are placed in genus Corvultur and Fan-tailed Raven in Rhinocorax by some authorities.
References
Clements, JF. 2008. The Clements Checklist of Birds of the World. 6th ed., with updates to December 2008. Ithaca: Cornell Univ. Press. ISBN 978-0801445019.
Del Hoyo, J, A Elliott, and D Christie, eds. 2009. Handbook of the Birds of the World. Volume 14: Bush-shrikes to Old World Sparrows. Barcelona: Lynx Edicions. ISBN 978-8496553507
Recommended Citation
Pages in category 'Corvus'
The following 46 pages are in this category, out of 46 total.