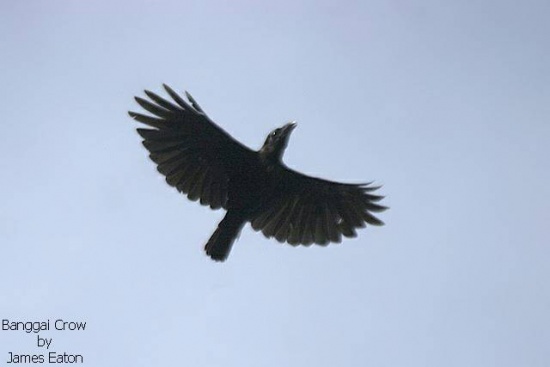 Corvus unicolor
Identification
39 cm. Black, dark iris, short tail. Smaller than Slender-billed Crow which has also a longer tail and a more massive bill and different iris color.
Distribution
Banggai Archipelago, Indonesia.
This species is critically endangered and was thought to be perhaps extinct. The Indonesian Ornithologist's Union declared the rediscovery of the species on Peleng Island in 2008. According to news reports, specimens have been collected which prove that the population belongs to this species and not the more common Slender-billed Crow; scientific publication is reportedly on the way.
Taxonomy
This is a monotypic species.
Forms a species pair with Piping Crow.
Habitat
Subtropical or tropical lowlands in moist forest.
Behaviour
Nothing known
References
External Links
GSearch checked for 2020 platform.