Corvus rhipidurus
Identification
46 - 47cm. An unmistakable, small raven:
Very short tail, rounded at tip; wing projection goes well beyond tail when sitting
Flat crown
Small, stubby bill
In flight, bat-like appearance with short tail and broad-based wings
Plumage black
Dark brown eye
Black bill and legs
Sexes similar but female averages marginally smaller. Juveniles similar to adult with shorter throat feathers and more rounded wings.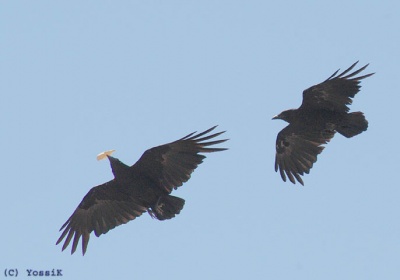 Similar species
Brown-necked Raven and Ethiopian Raven both easily distinguished by their longer tails and narrower wings. Thick-billed Raven likewise, and also markedly larger and heavier-billed. Common Raven does not overlap with Fan-tailed Raven.
Distribution
Sub-Saharan Africa (locally south of Sahara, highlands of Sudan, Ethiopia, Eritrea, Djibouti, Somalia to east Uganda and Kenya), southern Middle East (north to southern Jordan and southeastern Israel) and the southern and western Arabian Peninsula.
Locally common or abundant.
Taxonomy
Clements regards this species as monotypic[1].
Other sources[2] recognize two subspecies:
Formerly sometimes placed in its own genus Rhinocorax.
Habitat
Gorges, canyons and barren desert cliffs. Seen foraging near oasis and human settlements. From sea-level up to 2400 m, sometimes up to 4000 m.
Behaviour
Usually seen in pairs or small flocks.
Diet
Omnivorous; feeds on grain, berries, dates, insects and carrion. Takes also eggs or nestlings out of nests and scavenges around human settlements. Sometimes rides on goats and camels in search for ectoparasits.
Breeding
Breeding season differs through range. A solitary nester. The nest is a flimsy structure made of twigs and placed in a crevice on a cliff face. Very rarely in a tree or a building. Lays 2 - 6 eggs. Sometimes paratisitised by Great Spotted Cuckoo.
A sedentary species with some dispersal in winter.
References
Clements, J. F., T. S. Schulenberg, M. J. Iliff, B.L. Sullivan, C. L. Wood, and D. Roberson. 2012. The eBird/Clements Checklist of Birds of the World. 6th ed., with updates to October 2012. Ithaca: Cornell Univ. Press. ISBN 978-0801445019. Spreadsheet available at http://www.birds.cornell.edu/clementschecklist/downloadable-clements-checklist
Del Hoyo, J, A Elliott, and D Christie, eds. 2009. Handbook of the Birds of the World. Volume 14: Bush-shrikes to Old World Sparrows. Barcelona: Lynx Edicions. ISBN 978-8496553507
Recommended Citation
External Links