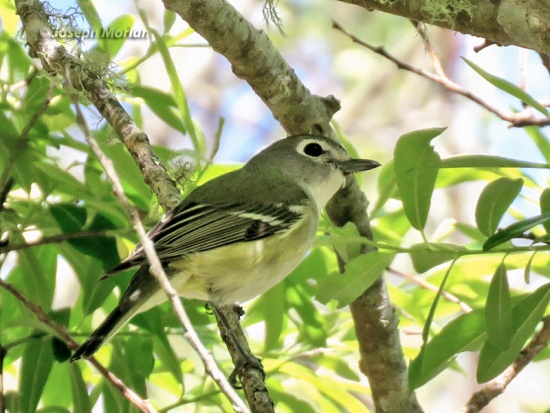 Vireo cassinii
Identification
Length: 11-14 cm (4.3-5.3 in)
Grey head, flanks, and whitish underparts
Yellow flanks
Olive green-grey back
Bright green rump
Brown black wings and tail
Dull olive green side to chest
Solid white eye spectacle
2 white wing bars
Brown iris
Black, grey based bill
Grey blue legs

Sexes similar, female slightly duller
Similar Species
Blue-headed Vireo usually has brighter yellow flanks and more contrast between the face and malar. Plumbeous Vireo is duller with little contrast between the head and the back and lacks yellow on the flanks.
Distribution
Breeds from British Columbia and southwestern Alberta through central Idaho, across to coastal Washington and Oregon, south to southern California and in Baja California, Mexico. Recent results suggest that at least part of the US population after having bred in early parts of summer migrates to north-western Mexico where a second round of breeding takes place.
A small number overwinter in southeastern Arizona, while the winter range mostly involves Mexico but for some birds may extend south to Costa Rica.
Taxonomy
Formerly lumped along with the Blue-headed Vireo and Plumbeous Vireo into one species, the Solitary Vireo.
Subspecies[1]
Two subspecies are recognized:
Habitat
Open woodland.
Behaviour
Actions
Sluggish; moves slowly through the vegetation.
Diet
The diet includes insects.
Breeding
The nest is a cup made from bark strips and down. The clutch consists of 2 to 5 white, brown spotted eggs.
Vocalisations
Primary song, by male alone, a series of disjointed phrases, each consisting of 2–4 burry notes, interspersed with pauses similar to song of Plumbeous Vireo. Often described as a "question and answer" song. Also an extended rasping chatter, sometimes turning into a loud grating call described by Dawson as a "rasping, nerve-grating war-cry."
Movements
Southern Baja California race (V. c. lucasanus) sedentary. Nominate race wholly migratory, with discrete breeding and wintering areas.
References
Recommended Citation
External Links
Search the Gallery using the scientific name:
Search the Gallery using the common name:
GSearch checked for 2020 platform.