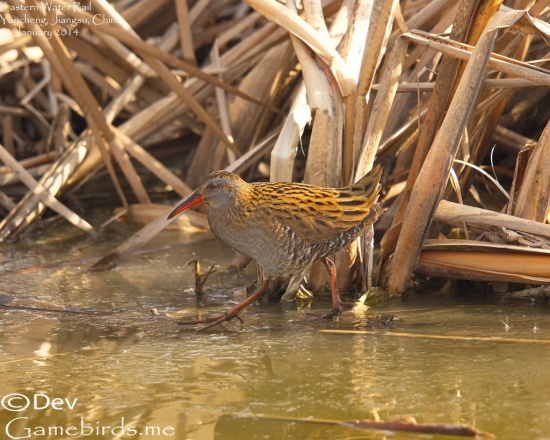 Rallus indicus
Identification
25–28 cm (9¾-11 in)
Upperparts olive-brown with broad, black streaks, grey face with brown cheek stripe, grey breast grading into brownish flanks, black-and-white barring on rear flanks, and greyish supercilium.
Similar species
Water Rail is very similar, differing in clear grey cheeks, more contrasting flank barring and unbarred undertail coverts. It can usually be separated on range, but overlaps locally with Brown-cheeked Rail on their wintering grounds in southern Asia.
Distribution
Breeds from eastern Siberia to Japan, winters in northern India, southeast Asia and Borneo.
Taxonomy
A monotypic species, formerly considered a subspecies of Water Rail[1].
Habitat
Reed-beds, marshes, etc.
Behaviour
A skulker, this bird is much more often heard than seen.
Breeding
Eggs are laid from April through May. Nest is a cup made from dead leaves and stems of marsh plants, well concealed on the ground, near or in water, in thick vegetation.
Diet
Primarily animal matter, especially small insects, molluscs, worms and the like, supplemented by vegetable matter including seeds.
Movements
Largely summer visitor to breeding grounds. Present in northern Japan from May to October, and wintering from southern Japan to eastern China and southeast Asia.
Vocalisations
Markedly different from that of R. aquaticus. The complex call of the Brown-cheeked Rail has a lower pitched growl and a distinctly shorter duration than in the Water Rail. Brown-cheeked's song is a "cranking, rhythmic series of identical strident, metallic yet musical, upslurred SKRINK, SKRINK" vs Water's "single braying, squealing, pig-like SKREEEr that descends near end." The two do not respond to each other's calls in playback experiments.
References
Clements, J. F., T. S. Schulenberg, M. J. Iliff, D. Roberson, T. A. Fredericks, B. L. Sullivan, and C. L. Wood. 2018. The eBird/Clements checklist of birds of the world: v2018. Downloaded from http://www.birds.cornell.edu/clementschecklist/download/
Brazil, M.A. (1991) The Birds of Japan. Smithsonian Inst. Press.
del Hoyo, J., Collar, N. & Christie, D.A. (2019). Eastern Water Rail (Rallus indicus). In: del Hoyo, J., Elliott, A., Sargatal, J., Christie, D.A. & de Juana, E. (eds.). Handbook of the Birds of the World Alive. Lynx Edicions, Barcelona. (retrieved from https://www.hbw.com/node/467249 on 2 April 2019).
Tavares, E. L. et al. (2010). Phylogenetic and coalescent analysis of three loci suggest that the Water Rail is divisible into two species, Rallus aquaticus and R. indicus. BMC Evolutionary Biology 10: 226.
Recommended Citation
External Links