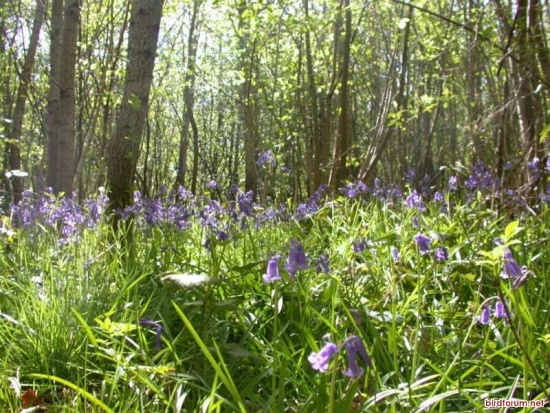 Overview
The woodlands to the north and north-west of Canterbury form one of the largest areas of oak woodland remaining in south-east England.
These woods are now much fragmented and are what is left of the once very extensive Forest of Blean. In addition there are several more isolated woodland patches on chalk downland to the east and south of the city. As well as oak Sweet Chestnut is abundant and there are also areas of Beech and Hornbeam with some conifer plantations.
Much of the deciduous woodland is coppiced in a cycle that ensures a good range of tree ages can be found close together.
Birds
Notable Species
The breeding birds of the Blean Woodlands include such typical deciduous woodland species as Eurasian Sparrowhawk, Woodcock, Turtle Dove and Tawny Owl and all three British woodpeckers. Hobby is often seen on passage.
Passerines include one of England's strongest Nightingale populations as well as Nuthatch and Common Treecreeper, Tree Pipit and various warblers including a few Lesser Whitethroat, tits and finches. Hawfinch, Wood Warbler and Common Redstart no longer breed. European Nightjar breeds in more open, recently felled areas.
Fieldfare and Redwing are common winter visitors as are flocks of finches including Common Crossbill and Siskin and the mixed tit flocks can include Goldcrest and Common Treecreeper as well as 4-5 species of tit.
Check-list
Birds you can see here include:
Eurasian Sparrowhawk, Common Kestrel, Northern Hobby, Eurasian Woodcock, European Turtle Dove, Tawny Owl, Long-eared Owl, Eurasian Green Woodpecker, Great Spotted Woodpecker, Lesser Spotted Woodpecker, Tree Pipit, Common Wren, Dunnock, European Robin, Common Nightingale, Common Redstart, Eurasian Blackbird, Fieldfare, Song Thrush, Redwing, Mistle Thrush, Lesser Whitethroat, Common Whitethroat, Garden Warbler, Blackcap, Common Chiffchaff, Willow Warbler, Goldcrest, Spotted Flycatcher, Long-tailed Tit, Marsh Tit, Coal Tit, Blue Tit, Great Tit, Eurasian Nuthatch, Eurasian Treecreeper, Common Jay, Common Magpie, Eurasian Jackdaw, Rook, Carrion Crow, Common Starling, Chaffinch, Brambling, European Greenfinch, European Goldfinch, Eurasian Siskin, Lesser Redpoll, Common Crossbill, Yellowhammer
Other Wildlife
The invertebrate life of the area has been studied for many years and some extremely rare species of millipede, beetle and bug have found at the RSPB's Church Wood Reserve. Various bush-crickets occur and butterflies are abundant and include some scarce species such as Heath Fritillary, one of Britain's rarest butterflies which occurs here along with its food-plant Yellow Cow-wheat. The habitats of Church Wood are managed to increase numbers of this rarity. Other scarce butterflies include Purple Hairstreak and Pearl-bordered Fritillary.
Primrose, Bluebell and Wood Anemone are common but of more interest to botanists are the orchids which include Fly, Birdsnest, Violet Helleborine and the rare Lady Orchid.
Site Information
Areas of Interest
From a birding point of view Church Woods is possibly the best area of the Blean Woodlands to the north-west of Canterbury and can be reached off the A290 Canterbury to Whitstable road. After 2.5km turn left into Rough Common and the reserve is signposted along a track to the right.
The reserve has three marked paths of different lengths and visitors are asked to keep to them, leaflets area available in the car-park.
Access and Facilities
Much of the wood can be seen from the Dunkirk to Denstroude road. To the south of the city is Larkeyvalley Wood, a different kind of woodland on the slopes of a chalk downland valley. Beech is a common tree here and in autumn and winter a wide range of birds, but Hawfinch are no longer regular.
To reach Larkeyvalley leave Canterbury on the A28 Ashford road and take the first left after crossing the bridge over the A2. Follow St Nicholas road through the housing estate eventually turning right at the T-junction. After about 1.5km the car-park can be seen on the left and leaflets are available there.
Grid Ref: TR126592
Contact Details
Tel: 01227 455972 (RSPB)
External Links
Content and images originally posted by Steve