This article is incomplete.
This article is missing one or more sections. You can help the BirdForum Opus by expanding it.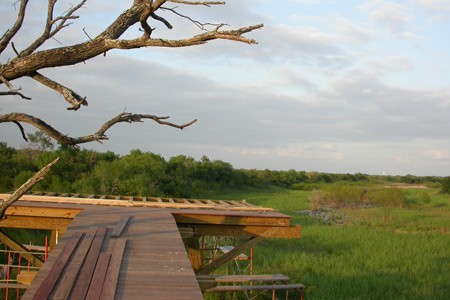 Overview
Located in southern Texas, adjacent to the Mexico border, Bentsen-Rio Grande Valley State Park is considered the best of the Rio Grande Valley parks, and it is now the Headquarters of the World Birding Center. 760-acres in size, along with 1,700 acres of adjoining federal refuge land, the area contains many special birds found nowhere else in the USA, plus Mexican vagrants which cross the Rio Grande River.
This State Park is site LTC 069 on the Great Texas Coastal Birding Trail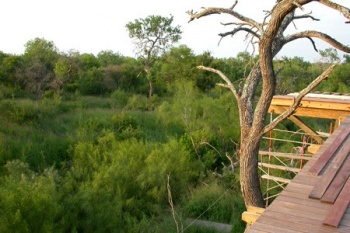 Birds
Notable Species
Green Jay, Plain Chachalaca, Northern Beardless Tyrannulet, Hook-billed Kite, Ferruginous Pygmy-Owl, Clay-colored Thrush, White-throated Thrush, Tropical Parula, Red-billed Pigeon, White-tipped Dove, Groove-billed Ani, Ringed Kingfisher, Green Kingfisher, Altamira Oriole. Migrating Swainson's Hawk and Broad-winged Hawk are a spring and fall spectacle.
Rarities
Masked Tityra (1990), Elf Owl (1994), Ruddy Quail-Dove (1996 and 2004), Yellow-faced Grassquit (2002), Northern Jacana (2006), Orange-breasted Bunting (2009), Bare-throated Tiger-Heron (2009-10)
Check-list
Birds you can see here include:
To do
Other Wildlife
To do
Site Information
History and Use
Bensten-RGV State Park is located on the flood plain of the Rio Grande River, a remnant of the once heavily wooded Lower Rio Grande Valley. The major goal of the World Birding Center is to re-create the periodic flooding that built and nourished the land in past centuries.
Areas of Interest
World Birding Center Headquarters
Hawk Observation Tower, 2 stories high, with handicapped access
Access and Facilities
park is open 7am-10pm daily
6 miles of trails (0.5 to 2 miles in length)
tram shuttle
2 bird blinds (hides)
2 observation decks
camping and picnic areas
new visitor center with exhibit hall, meeting room, cafe, gift shop and restrooms
cafe and gift Shop are open 8am-5pm daily
bike rentals
Entrance Fees
Free if you have a Parklands Pass
Free if you have a Texas State Parks Pass
Adults ~ $5 daily
Children (under 12) ~ free
Contact Details
Bentsen-Rio Grande Valley State Park
2800 S. Bentsen Palm Drive (FM 2062)
Mission, TX 78572
Tel: (956) 584-9156
External Links
Content and images originally posted by Gaga
Reviews
Jaeger01's review I have been to this location a number of times, mostly before it was converted to the "World Birding Center". It was better before, more birds by far, better conditions and more reliable ways to get around the park. They spent a lot of money here but with the construction, chased off a lot of the birds. By locking out the campers, got rid of all the free feeders campers brought with them. The tram (primary method of transport if you are not a bike rider or long distance hiker) is unreliable and does not run on a set schedule.
Perhaps I am being overly critical but I liked it much better, saw more back prior to the spending spree. Pros
Cons