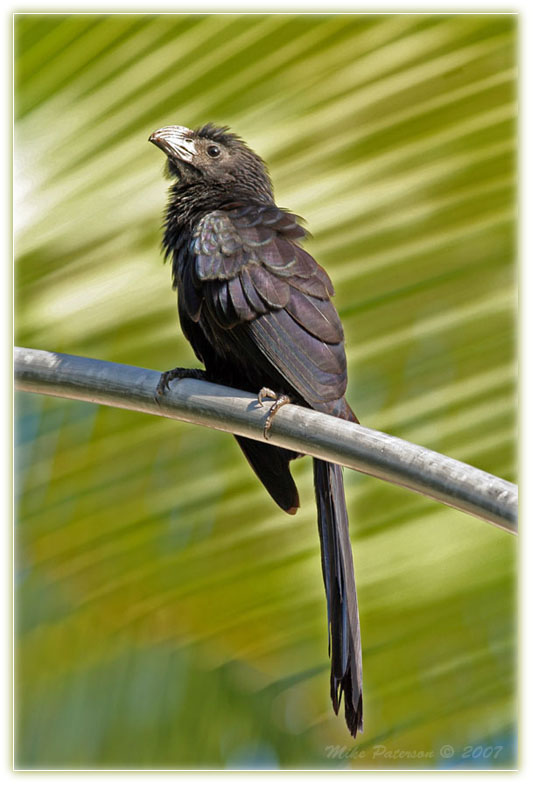 Crotophaga sulcirostris
Identification
32cm (12 in).
Glossy black plumage
Long, loose tail
Black skin around eye
Black bill arched and laterally compressed, without hump at base, upper ridge continuous with crown, upper mandible with grooves
Sexes similar. Juveniles are dull black and have a loose-webbed plumage, bill without grooves.
Distribution
Southern Texas and central Mexico, Central America, northern Colombia and Venezuela, coastal Ecuador, Peru and northernmost Chile; may also occur in Bolivia, but seemingly only accidental in Argentina.
Leaves northern-most areas of Texas and Mexico in the winter.
Common to abundant in most of its range. Much less common than Smooth-billed Ani in areas of sympatry.
Taxonomy
Habitat
Relatively open areas with bushes. Occurs from sea-level up to 2300m.
Behaviour
Usually encountered in groups. In flocks of 30 to 40 birds outside breeding season.
Diet
Feeds on insects. Takes also small vertebrates like lizards, and seeds and berries.
Forages in groups, walking on the ground, often among cattle looking for what they disturb. Occasionally follow army ants.
Breeding
Season differs through range, May to July in southern Mexico, June to November in Costa Rica. A cooperative breeder, several females may lay in one nest, each attended by her male. The nest is a large, open platform made of sticks, thorns and roots. It's placed in shrub or in a tree. Each female lays 3 to 4 eggs, up to 18 are found in a nest.
Movements
A resident but nomadic species. After breeding season birds disperse up to 1000km from the nearest breeding areas. Appears in Florida in autumn and in winter on Gulf coast.
References
Clements, J. F., T. S. Schulenberg, M. J. Iliff, D. Roberson, T. A. Fredericks, B. L. Sullivan, and C. L. Wood. 2015. The eBird/Clements checklist of birds of the world: v2015, with updates to August 2015. Downloaded from http://www.birds.cornell.edu/clementschecklist/download/
Del Hoyo, J, A Elliot, and J Sargatal, eds. 1997. Handbook of the Birds of the World. Volume 4: Sandgrouse to Cuckoos. Barcelona: Lynx Edicions. ISBN 978-8487334221
Restall et al. 2006. Birds of Northern South America. Yale University Press. ISBN 9780300124156
Ridgely & Gwynne 1989. Birds of Panama. Princeton Paperbacks. ISBN 0691025126
Alvaro Jaramillo. 2003. Birds of Chile. Princeton Field Guides. ISBN 0-691-11740-3
Erize et al. 2006 Birds of South America, non-passerines. Princeton Illustrated Checklists, Princeton, New Jersey, USA. ISBN 0-691-12688-7
Recommended Citation
External Links
Search the Gallery using the scientific name:
Search the Gallery using the common name:
GSearch checked for 2020 platform.