Patagioenas flavirostris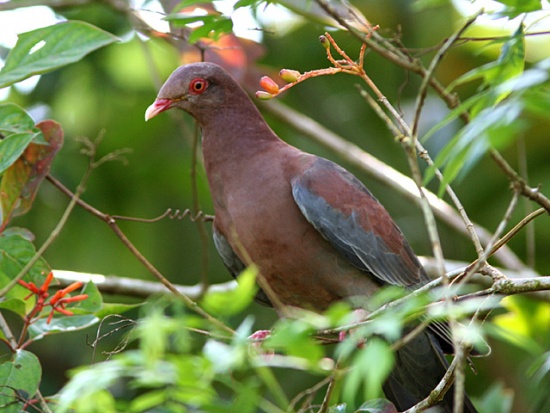 Identification
30 cm long and weighs 230 grams. It is mainly purple, with a brown back; its lower belly and flight feathers are blue-grey, while its tail is black. Its bill is white with a red base, and its eyes and ells are red. Juvenile birds are duller than adults and the plumage is more brown.
Distribution
North-western Mexico to southern Texas, and south to Costa Rica.
Taxonomy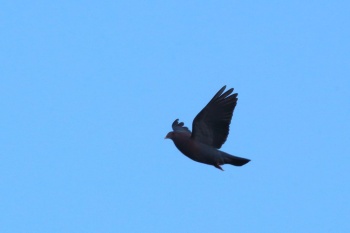 Red-billed Pigeon has previously been placed in genus Columba. ====Subspecies====[1] Four subspecies are recognized,
West Mexico (southern Sonora to Sinaloa)
Tres Marías Islands (off western Mexico)
Lowlands of Costa Rica (Gulf of Nicoya region)
Habitat
Open countryside with some trees. Also cultivation.
Behaviour
Breeding
It builds its nest from twigs, in trees. It lays one white egg. It is a solitary bird, seldom forming flocks. ====Diet It is a ground feeder; diet includes berries, buds and acorns.
References
Clements, J. F., T. S. Schulenberg, M. J. Iliff, S. M. Billerman, T. A. Fredericks, B. L. Sullivan, and C. L. Wood. 2019. The eBird/Clements Checklist of Birds of the World: v2019. Downloaded from http://www.birds.cornell.edu/clementschecklist/download/
Recommended Citation
External Links
GSearch checked for 2020 platform.1