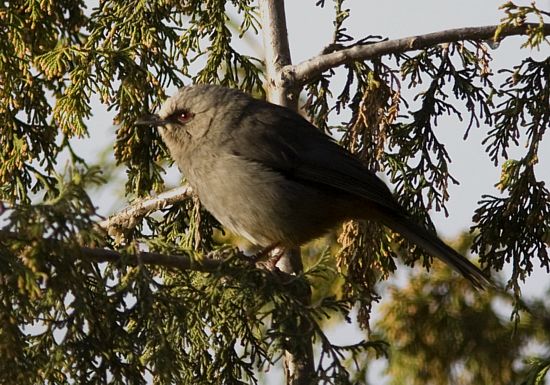 Alternative names: Abyssinian Babbler; Juniper Babbler
Sylvia galinieri
Parophasma galinieri
Identification
A dull grey babbler-like passerine (17-19 cm):
Dirty grey plumage
White forehead
Black lores
Rufous-chestnut vent
Sexes similar, juveniles are generally paler.
Distribution
Endemic to the highlands of Ethiopia.
Fairly common in parts of its range.1
Taxonomy
This is a monotypic species.[1]
Uncertain affinities. May be close to Bush Blackcap or the Mountain-Babblers. Now thought to belong to the Old World Warblers, not the Babblers.
Habitat
Dense thickets, giant heather, juniper woodland, highland bamboo, olive trees, well-wooded gardens. Often in steep-sided valleys or ravines. Found between 2440m and 3655m.1
Behaviour
Feeds on juniper berries and other fruit.
Usually seen in pairs or small groups of up to 8 birds. Keeps in vegetation. Fine singer.
Breeding season from January to July. The nest is a thin cup made of fine plant stems and placed on top of some small branches, about 5m above the ground. Lays 2 eggs.
Resident species.1
References
Del Hoyo, J, A Elliott, and D Christie, eds. 2007. Handbook of the Birds of the World. Volume 12: Picathartes to Tits and Chickadees. Barcelona: Lynx Edicions. ISBN 978-8496553422
Clements, J. F., T. S. Schulenberg, M. J. Iliff, S. M. Billerman, T. A. Fredericks, J. A. Gerbracht, D. Lepage, B. L. Sullivan, and C. L. Wood. 2021. The eBird/Clements checklist of Birds of the World: v2021. Downloaded from https://www.birds.cornell.edu/clementschecklist/download/
Lepage D. (2022) [1]. Retrieved 17 September 2022
Recommended Citation
External Links
GSearch checked for 2020 platform.