This article is incomplete.
This article is missing one or more sections. You can help the BirdForum Opus by expanding it.
Alternative Name: Caroni Swamp Bird Sanctuary, Trinidad
Overview
This area is a large mangrove swamp with brackish water. The main claim to fame is the roosting and nesting Scarlet Ibis which may approach 18000-20000 in number[1]. Mangrove specialists are commonly found in the area.
Birds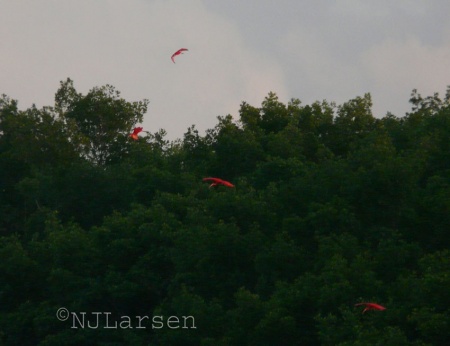 Notable Species
Scarlet Ibis, Straight-billed Woodcreeper, Bicolored Conebill, Red-rumped Woodpecker, and Black-crested Antshrike are some of the main attractions. There are also good chances of seeing Osprey and Peregrine Falcon; the latter is the main predator of the Scarlet Ibis.
Rarities
To do
Check-list
Birds you can see here include:
To do
Other Wildlife
Tree Boa snakes are often seen.
Site Information
History and Use
To do
Areas of Interest
To do
Access and Facilities
Several boat companies compete for the business of taking people out into the swamp; the main attraction is the evening flight of Scarlet Ibis to the roosting islands in the large lagoon, where they will be lit by the low evening light and look like they are gleeming from an inner fire. If getting in with an interested guide in a boat with not too may tourists, this can be a very rewarding experience, often allowing viewing of many of the more hidden species as well. If disappointed, it may be possible to arrange a morning trip specifically for the smaller birds.
Contact Details
To do
References
Information given by a boat guide on the swamp 2010
External Links
To do