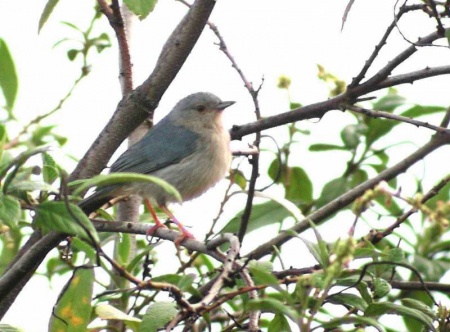 Conirostrum bicolor
Identification
11.4 cm (4½ in)
Adult: Grayish blue upperparts. Underparts creamy.
The immature birds are dull grayish above, yellowish on the face and breast and paler whitish on the lower belly.
They also have a very pointed bill and pinkish legs.
Distribution
Caribbean and South America
Caribbean: Trinidad
South America: Colombia, Venezuela, Guyana, Suriname, French Guiana, Brazil, Ecuador, Peru
Taxonomy
Subspecies
There are 2 subspecies[1]:
Habitat
Found primarily in mangroves along the coast and along the Amazon River.
Behaviour
Diet
Their diet is poorly recorded, but is known to include insects.
Breeding
They use grass and feathers to construct their small cup nest.
Vocalisation
The call is a thin tseep.
References
Clements, J. F., T. S. Schulenberg, M. J. Iliff, D. Roberson, T. A. Fredericks, B. L. Sullivan, and C. L. Wood. 2017. The eBird/Clements checklist of birds of the world: v2017, with updates to August 2017. Downloaded from http://www.birds.cornell.edu/clementschecklist/download/
Ber van Perlo. 2009. A field guide to the Birds of Brazil. Oxford University Press, New York, NY, USA. ISBN 978-0-19-530155-7
Ridgely and Tudor 2009. Field guide to the songbirds of South America - the passerines. University of Texas Press, Austin, TX, USA. ISBN 978-0-292-71979-8
Kenefick, Restall, Hayes, 2007. Field guide to the birds of Trinidad and Tobago. Yale University Press. ISBN 978-0-300-13557-2
Handbook of the Birds of the World Alive (retrieved Apr 2018)
Avibase
Wikipedia
Recommended Citation
External Links
GSearch checked for 2020 platform.