This article is incomplete.
This article is missing one or more sections. You can help the BirdForum Opus by expanding it.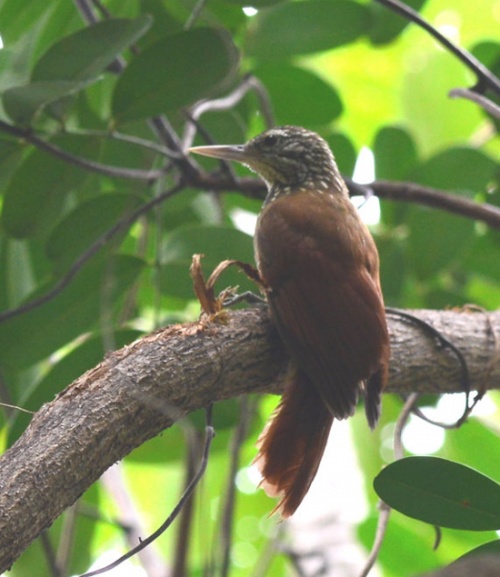 Dendroplex picus
Xiphorhynchus picus
Identification
20cm. Straight bill that varies in color among subspecies, rufous-chestnut above, dusky crown, rear lower body brownish which becomes increasingly scaly in buff-white spots going towards the front of the bird (sometimes ordered as streaks), and in many subspecies, the head and throat appears mostly white with white supercilium. Juvenile darker, with more diffuse spotting.
Distribution
Bolivia, Brazil, Colombia, Ecuador, French Guiana, Guyana, Panama, Peru, Suriname, Trinidad and Tobago, and Venezuela.
Taxonomy
This species has been moved from the genus Xiphorhynchus to the genus Dendroplex.[1][2]

Thirteen subspecies are recognized.
Habitat
Forests and mangrove forests; also arid scrubland.
Behaviour
It nests in a tree cavity or aboral termite mound and 2-3 eggs are laid.
References
Clements, JF. 2010. The Clements Checklist of Birds of the World. 6th ed., with updates to December 2010. Ithaca: Cornell Univ. Press. ISBN 978-0801445019. Spreadsheet available at http://www.birds.cornell.edu/clementschecklist/Clements%206.5.xls/view
Gill, F and D Donsker (Eds). 2010. IOC World Bird Names (version 2.7). Available at http://www.worldbirdnames.org/.
Restall et al. 2006. Birds of Northern South America. Yale University Press. ISBN 9780300124156
SACC proposal to transfer this species to genus Dendroplex.
Recommended Citation
External Links