Alternative names: White-capped Water Redstart; River Chat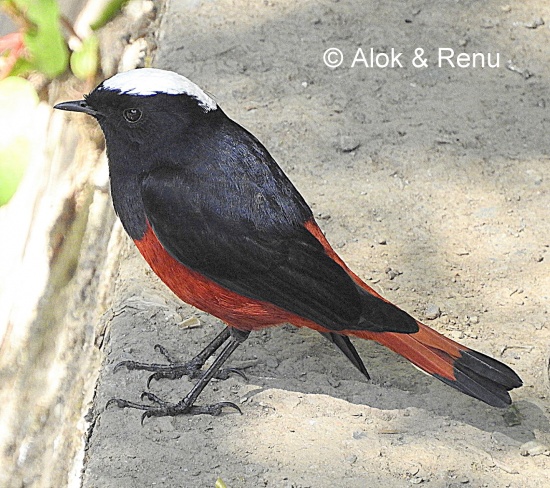 Phoenicurus leucocephalus

Chaimarrornis leucocephalus
Identification
18-19 cm (7-7½ in), 24-42 g. Sexes alike
Larger than other redstarts; crown and nape snowy white, remainder of head, throat, breast, back, and wings black; belly, rump, vent, and base of tail reddish-rufous; a black bar across the end of the tail.
Similar species
Resembles male White-winged Redstart, but lacks the large white wing patch of the latter, as well as occurring in different habitat.
Distribution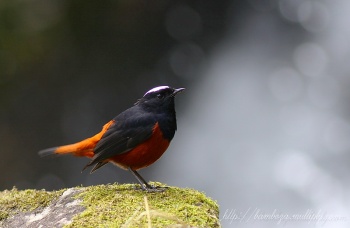 Breeds in central Asia, Himalayas, and much of China, wintering at lower altitudes; some winter movement southward into NE India, N Indochina, and S China.
Taxonomy
This is a monotypic species.
Formerly placed in the monotypic genus Chaimarrornis.
Habitat
An altitudinal migrant along alpine streams, up to 4,000 m. Prefers to perch on boulders and rocks in fast water. Generally common, often occurring with dippers and Plumbeous Water Redstart.
Behaviour
Bobs head when alighting on rocks in fast streams, flicks tail continually.
Vocalisation
Voice: Song a weak undulating whistle.
Call: loud, shrill, a rising tseeit, tseeit

Recording by Alok Tewari
Vimandeshwar Valley, Alt. 4000 ft., Dist. Almora, Uttarakhand Himalayas, India, 8 April 2019.
Song given first while hopping on the ground and then in flight.
References
Clements, J. F., T. S. Schulenberg, M. J. Iliff, D. Roberson, T. A. Fredericks, B. L. Sullivan, and C. L. Wood. 2017. The eBird/Clements checklist of birds of the world: v2017, with updates to August 2017. Downloaded from http://www.birds.cornell.edu/clementschecklist/download/
Avibase
Recommended Citation
External Links
GSearch checked for 2020 platform.1