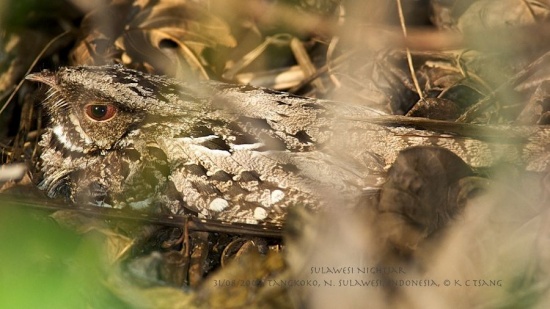 Caprimulgus celebensis
Identification
24 - 30 cm. Sexes similar
upperparts greyish-brown streaked blackish-brown
no (full) nuchal collar: half (hind) nuchal collar buff
lesser coverts dark brown speckled tawny and buff
rest of wing-coverts greyish-brown, boldly spotted buff, pale buff and tawny
scapulars blackish-brown with buffish edges
throat patch white
underparts greyish-brown, speckled and spotted brown, greyish-white and buff, becoming buff barred brown on belly and flanks
Outer wing dark but second, third and fourth outermost primaries have white spot
two outermost tail feathers have (fairly extensive) white tips
Subspecies jungei has smaller white tips to the two outermost tail feathers.
Similar species
Satanic Nightjar has smaller white patches in the wings and no white in the tail. It is darker and more spotted.
Savannah Nightjar has a shorter tail and is more uniform (grey upperparts, tail and inner wing of Sulawesi contrasting with other darker plumage). Male has more white in outer tail feathers than Sulawesi, female less.
Great Eared Nightjar has uniform rufous wings with no white, pale scapulars and a dark body. It has a thin white (front) to buff nuchal collar and no white throat.
Large-tailed Nightjar is extra-limital but might conceivably occur. It is larger and less plain with larger white wing spots.
Distribution
Endemic to north Sulawesi and Sulu Islands, Indonesia. A locally fairly common restricted-range species. Most often seen in Tangkoko Nature Reserve.
Taxonomy
Two subspecies recognized:
C. c. celebensis on Sulawesi and Butung Island
C. c. jungei on Sula Islands (Taliabu and Mangole)
Sometimes considered conspecific with Philippine Nightjar.
Habitat
Moist lowland forests and mangrove forests. Also in secondary forest and coastal bushes.
Behaviour
Diet
Feeds probably on insects.
Hawks after prey in agile and buoyant flight.
Breeding
No information.
Movements
Presumably a sedentary species.
References
Clements, J. F., T. S. Schulenberg, M. J. Iliff, D. Roberson, T. A. Fredericks, B. L. Sullivan, and C. L. Wood. 2014. The eBird/Clements checklist of birds of the world: Version 6.9., with updates to August 2014. Downloaded from http://www.birds.cornell.edu/clementschecklist/download/
Gill, F and D Donsker (Eds). 2015. IOC World Bird Names (version 5.2). Available at http://www.worldbirdnames.org/.
Handbook of the Birds of the World Alive (retrieved June 2015)
Recommended Citation
External Links