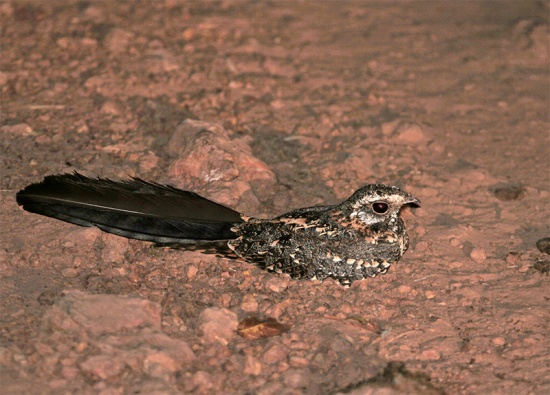 Caprimulgus longipennis
Identification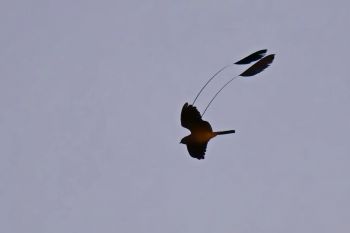 20-23cm. Variegated grey, with a brown collar. The adult male has a wing ornament during the breeding season, with a broad central flight feather on each wing elongated to 38cm, much longer than the bird's body. 20cm or more of this is bare shaft. In normal flight, these feathers trail behind, but in display flight they are raised vertically like standards.
Distribution
Africa from Senegal east to Ethiopia.
Taxonomy
This is a monotypic species.
It was formerly included in the genus Macrodipteryx.
Habitat
Dry savannas, with some scrub.
Behaviour
No nest is made; the 2 elongated and elliptical eggs are placed upon the bare ground.
The diet includes moths and beetles.
References
Clements, J. F., T. S. Schulenberg, M. J. Iliff, S. M. Billerman, T. A. Fredericks, B. L. Sullivan, and C. L. Wood. 2019. The eBird/Clements Checklist of Birds of the World: v2019. Downloaded from http://www.birds.cornell.edu/clementschecklist/download/
Recommended Citation
External Links
Search the Gallery using the scientific name:
Search the Gallery using the common name:
GSearch checked for 2020 platform.