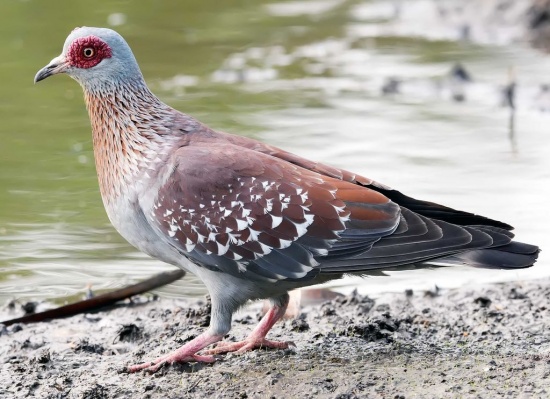 Columba guinea
Identification
32–35 cm (12½-13¾ in)

Rufous back
White-spotted wings
Bluish-grey upper and underparts
Grey head
Red eye patches
Brown neck, streaked white
Red

Sexes similar; immatures browner
Distribution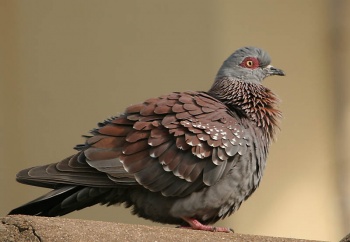 Africa south of the Sahara
Western Africa: Mauritania, Senegambia, Senegal, The Gambia, Guinea-Bissau, Guinea, Mali, Sierra Leone, Ivory Coast, Burkina Faso, Ghana, Togo, Benin, Nigeria, Niger, Chad, Cameroon, Central African Republic, Equatorial Guinea, DRC and Angola
Eastern Africa: Sudan, Eritrea, Ethiopia, Djibouti, Somalia, Kenya, Uganda, Rwanda, Burundi, Tanzania, Mozambique and Malawi
Southern Africa: Namibia, Botswana, Zimbabwe, South Africa, KwaZulu-Natal, Lesotho and eSwatini
Taxonomy
Subspecies[1]
Columba guinea has two subspecies:
Habitat
Mountain ranges, rocky terrain, coatal cliffs and cities, woods, scrub and gardens.
Behaviour
Diet
It feeds mainly on seeds along with newly germinated shoots, grain and groundnuts.
Breeding
Their traditional breeding/roosting sites were cliff ledges but they have recently taken to breeding in buildings. This has helped the species increase in number and range. It builds a large stick nest in a tree or on a building, laying 2 white eggs.
Vocalisation
Call: loud doo-doo-doo.
References
Clements, J. F., T. S. Schulenberg, M. J. Iliff, D. Roberson, T. A. Fredericks, B. L. Sullivan, and C. L. Wood. 2016. The eBird/Clements checklist of birds of the world: v2016, with updates to August 2016. Downloaded from http://www.birds.cornell.edu/clementschecklist/download/
Wikipedia
BF Member observations
Recommended Citation
External Links
GSearch checked for 2020 platform.1