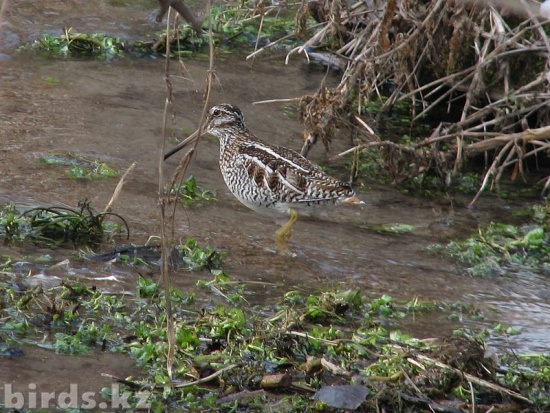 Gallinago solitaria
Identification
29-31 cm
Upperparts, head and neck:

streaked with brownish stripes
pale feather edges form lines down the back

White face
Gingery breast
White belly with brown barring on the flanks
Bill:

brown and black
long, straight and fairly slender

Legs and feet are yellowish-green to brown

Sexes are similar; females are larger
Distribution
Eastern and central Asia, in eastern Russia, Kazakhstan, Kyrgyzstan and Mongolia.
Taxonomy
Subspecies
Two subspecies are recognized:[1]
Habitat
River valleys, mountain bogs, marshes and swamps.
Behaviour
Breeding
Its nest is saucer-shaped and made of dry grass, hidden in a dense tuft of grass or sedges.
Diet
It forages by pushing its long bill deep into the mud seeking invertebrates, such as insects and worms, seeds and plants.
References
Clements, J. F., T. S. Schulenberg, M. J. Iliff, B.L. Sullivan, C. L. Wood, and D. Roberson. 2012. The eBird/Clements Checklist of Birds of the World. 6th ed., with updates to October 2012. Ithaca: Cornell Univ. Press. ISBN 978-0801445019. Spreadsheet available at http://www.birds.cornell.edu/clementschecklist/downloadable-clements-checklist
Wikipedia
Recommended Citation
External Links
GSearch checked for 2020 platform.1