Alternative names: Nepal Treecreeper; Stoliczka's Treecreeper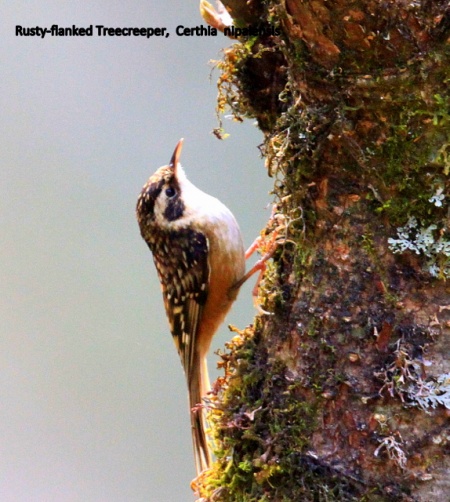 Certhia nipalensis
Identification
14 cm (5½ in). The richest coloured treecreeper in the region.
Bright rufous flanks, lower back and rump
Almost black crown and mantle with fine buff streaks
Broad cream-buff supercilium enclosing dark cheek-patch
Rather short and straight bill
Very long tail spikes
Sexes similar. Juveniles are duller and browner and look similar like the local race of Eurasian Treecreeper.
Distribution
Himalayas from west Nepal east to Bhutan, northeast India, northeast Burma, southeast Tibet and southwest China.
Rather common in the Himalayas, rare in China.
Taxonomy
This is a monotypic species.
Formerly erroneously treated as subspecies of Eurasian Treecreeper.
Habitat
Boreal and temperate forests, also in rhododendron.
Occurs in summer from 2300 to 3660 m, lower in winter. Generally higher than Sikkim Treecreeper but lower than Bar-tailed Treecreeper and Eurasian Treecreeper, however some some altitudinal overlap with all three species.
Behaviour
Diet
Feeds on arthropods.
Forages like other Treecreepers on trunks and lower branches of trees, often searches for food among epiphytes.
Usually seen singly or in pairs, sometimes in small flocks or in mixed-species flocks, however less often than other treecreepers.
Breeding
Not well known. Breeding season presumably from April to June. One recorded nest in a fissure of an old fir tree contained 3 eggs.
Movements
A resident species with some seasonal altitudinal movements.
References
Clements, J. F., T. S. Schulenberg, M. J. Iliff, D. Roberson, T. A. Fredericks, B. L. Sullivan, and C. L. Wood. 2015. The eBird/Clements checklist of birds of the world: v2015, with updates to August 2015. Downloaded from http://www.birds.cornell.edu/clementschecklist/download/
Gill, F and D Donsker (Eds). 2015. IOC World Bird Names (version 5.2). Available at http://www.worldbirdnames.org/.
Rasmussen, PC and JC Anderton. 2005. Birds of South Asia: The Ripley Guide. Barcelona: Lynx Edicions. ISBN 978-8487334672
Handbook of the Birds of the World Alive (retrieved June 2015)
Recommended Citation
External Links