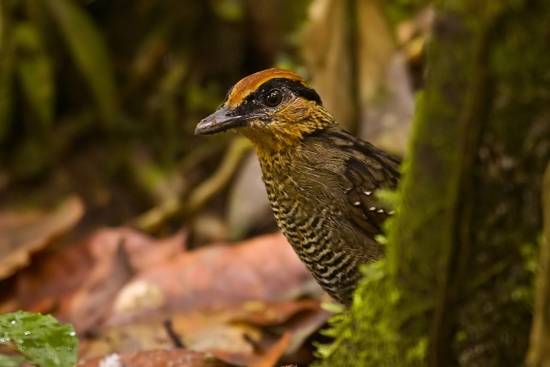 Pittasoma rufopileatum
Identification
16 - 17.5cm. A variable antpitta.
Rufous crown
Broad black band from lores to nape
Buff to deep ochraceous rest of head, sparsely dotted with black
Olive-brown upperparts with broad black streaks on back
Browner wings and tail
Whitish dots on wing-coverts and tertials
Black and white barred underparts, olive-brown flanks
Brown eye
Black bill
rosenbergi is smaller, has richer rufous cheeks and throat and unmarked dull buffy underparts
harterti has a rufous face and variably spotted or barred underparts
Females have a white speckled black superciliary band. Juveniles are not yet described.
Distribution
Found in South America on the Pacific slopes of the Andes from Colombia south to Ecuador.
Rare to uncommon restricted-range species.
Taxonomy
Subspecies
There are 3 subspecies[1]:
West Andes of Colombia and Baudo Mountains (south to Choco)
Lowlands and foothills of Colombia (Cauca and western Narino)
Pacific lowlands of north-western Ecuador
harterti may be a synonym of the nominate subspecies. Both are geographically very close and the plumages variable.
Habitat
Ground of humid lowland forests. Occurs from lowlands up to 1100m.
Behaviour
Diet not documented. Forages singly or in pairs on the forest floor, hopping and rapidly bounding, then pausing and resting motionless for long periods. Follows army-ant swarms. A bird in breeding conditions was collected in February in Colombia. No other information about breeding. Probably a sedentary species.
References
Clements, JF. 2011. The Clements Checklist of Birds of the World. 6th ed., with updates to August 2011. Ithaca: Cornell Univ. Press. ISBN 978-0801445019. Spreadsheet available at http://www.birds.cornell.edu/clementschecklist/downloadable-clements-checklist
Del Hoyo, J, A Elliot, and D Christie, eds. 2003. Handbook of the Birds of the World. Volume 8: Broadbills to Tapaculos. Barcelona: Lynx Edicions. ISBN 978-8487334504
Avibase
Recommended Citation
External Links