Saxicola tectes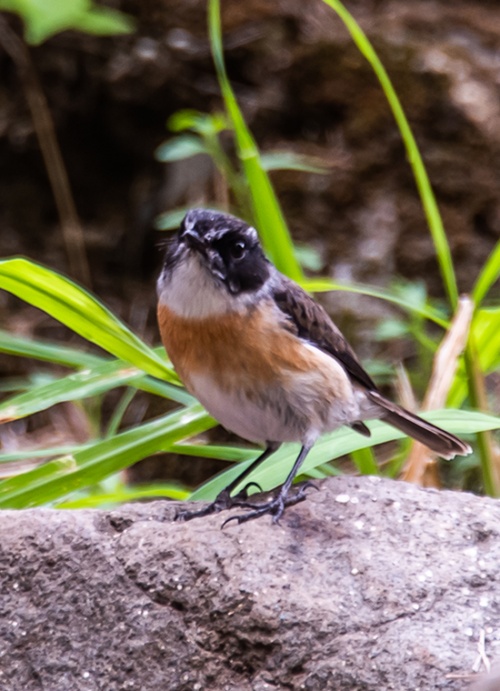 Identification
12.5 cm. A very variable Chat, resembling Canary Islands Stonechat in all plumages.
Male
Head either all black or with white supercilium
Rufous-orange on breast, amount highly variable
White rest of underparts
Dark brown to black upperparts, white patches in wing
Some males resemble females, even during breeding season
Females
Juveniles are heavily mottled below.
Distribution
Endemic to Réunion.
A common restricted-range species.
Taxonomy
This is a monotypic species.
It's sometimes considered conspecific with African Stonechat.
Habitat
Open mountain bushlands and clearings. Commonest in tamarind and mixed evergreen forest with open meadows and clearings.
Occurs above 800 to 900 m in the north and northeast of the island, above 300 m in the south, commonest above 1200 m.
Behaviour
Diet
Feeds on small invertebrates like caterpillars and other larvae. Also seen taking a small gecko and fruits.
Forages by hawking insects from rocks, low branches or heath bushes, taking its prey from the ground.
Breeding
Breeding season from mid-October to late January. The nest is made of mosses, leaves, stems and animal hair. It's placed on the ground, in tuft of vegetation or on a vegetated bank, also 1 to 2 m above the ground on a low bough or in a crevice in a trunk. Lays 2 to 3 eggs.
Movements
Occasionally seen at lower altitudes outside breeding season.
References
Clements, J. F., T. S. Schulenberg, M. J. Iliff, S. M. Billerman, T. A. Fredericks, B. L. Sullivan, and C. L. Wood. 2019. The eBird/Clements Checklist of Birds of the World: v2019. Downloaded from http://www.birds.cornell.edu/clementschecklist/download/
Collar, N. (2020). Reunion Stonechat (Saxicola tectes), version 1.0. In Birds of the World (J. del Hoyo, A. Elliott, J. Sargatal, D. A. Christie, and E. de Juana, Editors). Cornell Lab of Ornithology, Ithaca, NY, USA. https://doi.org/10.2173/bow.reusto1.01
Recommended Citation
External Links