Alternative names: Canary Island Chat; Canary Islands Bush Chat; Fuerteventura Stonechat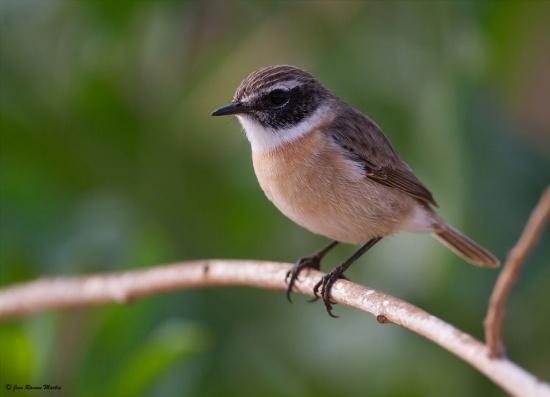 Saxicola dacotiae
Identification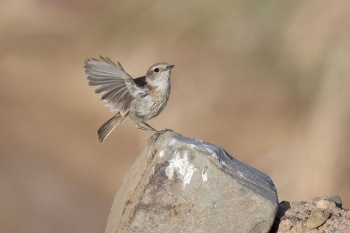 11–12·5 cm (4¼-5 in)
Dark brown
Blackish head and back streaks
White supercilium
White neck sides
Pale orangey-chestnut breast
Duller and paler underside
Whitish belly
Dark rump and tail
White tail pattern (visible in flight)
White wing band

Female: similar but duller
Brown, black-streaked head
Lacks white neck patch
Distribution
Endemic to Fuerteventura in the Canary Islands.
Taxonomy
Subspecies
There are 2 subspecies[1]:
Formerly Canary Islands (Montaña Clara and Allegranza). Extinct
Habitat
Ravines, deserts, rocky slopes with fairly sparse shrubby vegetation.
Behaviour
Diet
Their main diet consists of invertebrates, such as caterpillars, ants, some flies, centipedes, beetles and spiders.
Breeding
The 4-5 eggs are incubated for 13 days. The generally raise 2 broods per year.
The timing of their breeding effort is linked to the rains.
References
Clements, J. F., T. S. Schulenberg, M. J. Iliff, D. Roberson, T. A. Fredericks, B. L. Sullivan, and C. L. Wood. 2017. The eBird/Clements checklist of birds of the world: v2017, with updates to August 2017. Downloaded from http://www.birds.cornell.edu/clementschecklist/download/
Handbook of the Birds of the World Alive (retrieved Sept 2017)
Wikipedia
Recommended Citation
External Links
GSearch checked for 2020 platform.