Ardenna creatopus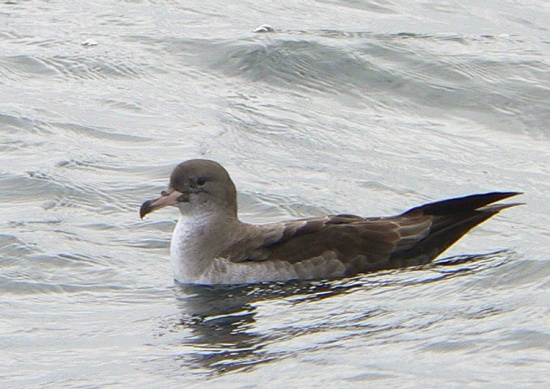 Identification
Length 48 cm (18"), wingspan 109 cm, weight 720 g
A large shearwater, uniformly dark brown above, pale-bellied below with dark chest and undertail coverts, a short tail, variably mottled wing undersides, a stout bill pink with dark tip, and pink legs. Sexes similar.
Similar species
Flesh-footed Shearwater has very similar structure and shares the bill and leg characters, but is singificantly darker below, blackish-brown on the belly. Light morph of Wedge-tailed Shearwater is also similar, best told by its longer, somewhat tapered tail, and slender, dark bill. Black-vented Shearwater shares similar plumage, but is substantially smaller.
Distribution
Breeds on small islands west of Chile, with the Juan Fernández Islands the most important colony.
Winters north to the northeastern Pacific off the west coast of the Americas, reaching as far north as southern Alaska during the austral winter / northern summer.
Taxonomy
This is a monotypic species[1].
Formerly placed in the genus Puffinus. Closely related to (and has sometimes been considered a subspecies of) Flesh-footed Shearwater, which replaces Pink-footed Shearwater in the southwest Pacific Ocean[2].
Habitat
Open ocean.
Behaviour
Diet includes fish and offal from fishing boats.
Nests are made in burrows. A single egg is laid in November, incubated by both parents. The young is fed by both parents until it fledges in March or April.
References
Clements, J. F., T. S. Schulenberg, M. J. Iliff, D. Roberson, T. A. Fredericks, B. L. Sullivan, and C. L. Wood. 2015. The eBird/Clements checklist of birds of the world: v2015, with updates to August 2015. Downloaded from http://www.birds.cornell.edu/clementschecklist/download/
Del Hoyo, J, A Elliot, and J Sargatal, eds. 1992. Handbook of the Birds of the World. Volume 1: Ostrich to Ducks. Barcelona: Lynx Edicions. ISBN 978-8487334108
Recommended Citation
External Links