This article is incomplete.
This article is missing one or more sections. You can help the BirdForum Opus by expanding it.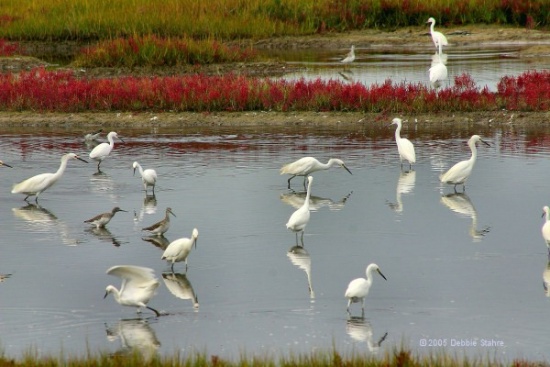 Overview
An 8 mile barrier island located in Newburyport, Massachusetts, itself a heavily birded location. Driving the length, you see marshes on one side while the other side has dunes and ocean accessible from boardwalks.
Birds
Notable Species
Parker River Wildlife Refuge has 4662 acres of diverse wetlands which are habitat to more than 300 species of migrating birds. Parts of the refuge are closed due to winter conditions or the summer breeding of Piping Plovers. The 6.3 miles of refuge beach is closed for the Piping Plovers starting April 1. The beach reopens in mid/late August, but parts not being used by the birds may be opened starting July 1. Winter visitors include Snowy Owl and Northern Gannet.
Check-list
Birds you can see here include:
Canada Goose, American Black Duck, Mallard, Common Eider, Double-crested Cormorant, Great Blue Heron, Snowy Egret, Osprey, Northern Harrier, Rough-legged Hawk, American Kestrel, Peregrine Falcon, Semipalmated Plover, Piping Plover, Greater Yellowlegs, Semipalmated Sandpiper, American Woodcock, Ring-billed Gull, Herring Gull, Great Black-backed Gull, Common Tern, Mourning Dove, Snowy Owl, Eastern Kingbird, Northern Shrike, Purple Martin, Tree Swallow, Black-capped Chickadee, American Robin, Gray Catbird, Cedar Waxwing, Black-throated Green Warbler, American Redstart, Song Sparrow, Northern Cardinal, Bobolink, Red-winged Blackbird
Other Wildlife
butterflies

Monarch
Pearl Crescent
Spring Azure
Mourning Cloak
Common Wood Nymph
Eastern Tiger Swallowtail

Hooded and other arctic seals on occasion
Site Information
History and Use
Established in 1942 mainly as a habitat for migratory birds. Consists of 4,662 acres.
Areas of Interest
To do
Access and Facilities
The refuge is a place to bird year round. There is an entrance fee. Follow Water Street to Plum Island over the bridge and turn right.
Contact Details
Information/Refuge Headquarters: (978) 465-5753
E-mail: [email protected]
Federal Relay Service for the deaf and hard-of-hearing: 1-800-877-8339
Information on the area in general can be found by contacting the Greater Newburyport Chamber of Commerce and Industry at (978) 462-4481.
External Links
Content and images originally posted by Digital Rebel