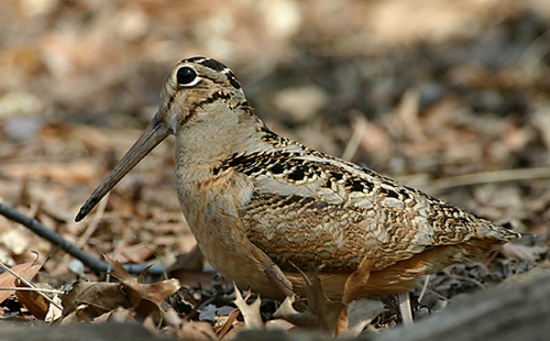 Scolopax minor
Identification
25-31 cm (9¾-12 in)
Extremely large bill with large bulging eyes placed high on head. Leaflike camouflage pattern, broadly barred crown.
Distribution
Taxonomy
This is a monotypic species[4].
Habitat
Decidious, damp woods.
Behaviour
Rises vertically when flushed.
Diet
Their main diet consists of earthworms, supplemented with beetles, snails, centipedes and millipedes.
References
Sibley, DA. 2000. The Sibley Guide to Birds. New York: Alfred A. Knopf. ISBN 978-0679451228
Keppie, D. M. and R. M. Whiting, Jr. 1994. "American Woodcock (Scolopax minor)." The Birds of North America Online (A. Poole, Ed.). Ithaca: Cornell Lab of Ornithology; Retrieved from the Birds of North America Online: http://bna.birds.cornell.edu/bna/species/100.
Brinkley, ES. 2007. Field Guide to Birds of North America. New York: Sterling Publishing Co., Inc. ISBN 978-1402738746
Clements, J. F., T. S. Schulenberg, M. J. Iliff, D. Roberson, T. A. Fredericks, B. L. Sullivan, and C. L. Wood. 2014. The eBird/Clements checklist of birds of the world: Version 6.9., with updates to August 2014. Downloaded from http://www.birds.cornell.edu/clementschecklist/download/
Recommended Citation
External Links
GSearch checked for 2020 platform.