Columba elphinstonii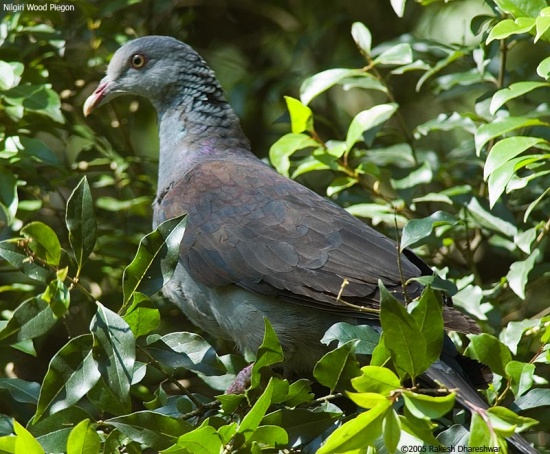 Identification
A mid-sized, quite dark forest pigeon.
Adults

Checkerboard nape pattern
Grey head with paler throat
Green-purple iridescence on neck-sides and upper mantle
Very dark, chestnut mantle
Juvenile

Darker grey crown
Only weak, grey-tipped neck patch
Rufous edgings to wing-coverts
In flight
Very dark grey underwing-coverts
This species is may be confused with Ashy Wood Pigeon or Sri Lanka Wood Pigeon, but their ranges don't overlap. In flight confusion with Malabar Imperial Pigeon possible, but underwing-coverts in this species paler.
Distribution
Western Ghats in southwestern India. From N Maharashtra south, missing in most of Karnataka, but occuring in Kerala and Tamil Nadu. Records from SE Ghats and NE Ghats doubtful. Very local and scarce. Declining in most of its range.
Taxonomy
Monotypic. Forms a superspecies with Ashy Wood Pigeon Columba pulchricollis and Sri Lanka Wood Pigeon Columba torringtoni.
Habitat
Deciduous forest from the foothills up to 2000m. Breeding records usually above 1000m.
Behaviour
Shy and hard to find. Mainly arboreal, often in pairs or small groups. Follows fruiting trees, so occurence is erratic.
Breeding mostly form April to June. Typical Pigeon nest (platfrom of twigs). Lays 1 egg.
Feeds arboreally on fruits, berries and buds. May take fallen fruits and snails on the forest ground.
Doesn't migrate, but some wandering following fruiting trees takes place.
External Links
GSearch checked for 2020 platform.