Clanga pomarina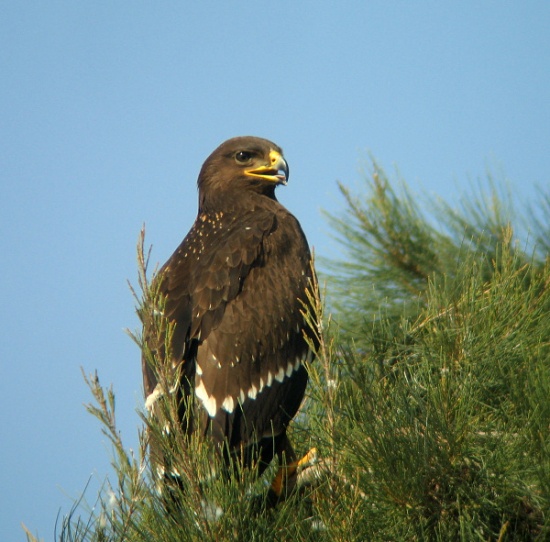 Identification
55-65 cm in length and has a wingspan of 145-170 cm.
A medium sized, dark raptor
Adult overall plumage dark brown with paler head. The beak can seem small with round nostrils. The upper-wing coverts are also pale and there can sometimes be a small white primary patch. Under wing coverts are normally paler than the flight feathers. The tail is rounded and in flight, it's length is generally approximately 2/3 of the wing width.
Juvenile wing coverts usually darker than adult bird, with white tips to the greater coverts (upper and lower wing) and median coverts on the upper wing only. Trailing edge of both tail and wings also tipped with white. A pale rufous area on the nape. Eyes start out dark, becoming honey-colored and then yellow as the bird becomes older.
Similar Species
Larger Greater Spotted Eagle, and similar-sized Indian Spotted Eagle.
Distribution
Breeds in eastern Europe in north-east Germany, north and east Poland, the Baltic States and Belarus, Russia and the Ukraine to about 350E. More isolated populations persist in the Czech Republic and Slovakia, Hungary, Croatia and northern Yugoslavia and south-east Romania. Also breeds in small numbers in scattered parts of Albania, Bulgaria and Greece, Turkey and the Caucasus. Has bred in Algeria.
Most birds winter in eastern and southern Africa from Tanzania south to Natal. The species can be seen on migration across southeast Europe, Turkey and the Middle East. The most important site for migrants is the Bosphorus where many thousands pass through from mid-August to mid-October and return late March-late April. Smaller numbers are regular at Borçka and Sicily-Cap Bon.
Vagrants recorded from most European countries north to Norway and west to Spain, but not Britain, and regular in Finland, Sweden and Denmark. Also recorded in Morocco.
Taxonomy
Monotypic. Formerly two subspecies were recognised, C. p. pomarina in Eurasia and C. p. hastata in India, but the latter is now split as Clanga hastata.
Formerly included in the genus Aquila.
Habitat
Forest with clearings, lakes or swamps, sometimes drier woodland. Often hunts over grassland when not breeding.
Behaviour
Flight
Quick wing beats. Soars on flat wings, but arched when gliding
Breeding
It lays 1-3 eggs in a tree nest.
Diet
Diet includes small mammals and similar terrestrial prey.
Vocalisation
References
Collins Field Guide 5th Edition
Recommended Citation
External Links
GSearch checked for 2020 platform.1