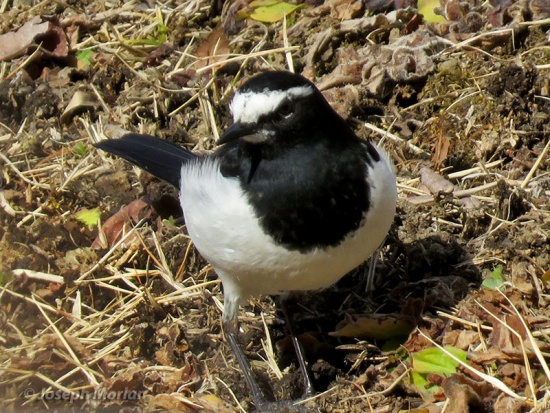 Motacilla grandis
Identification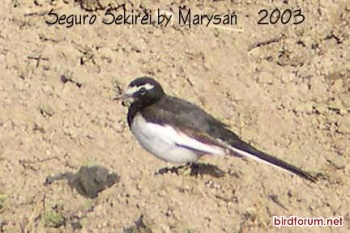 21–23 cm (8¼-9 in.)
Head black except for long white supercillia joining over the forehead and white chin. Upperparts very dark slate grey ( often looking black ). Throat and breast black, rest of underparts white. tertials black with narrow white margins, rest of wing white with some inner greater coverts black centred. Tail black with thin white outer edges. Bare parts black. Females are similar to males but have a slight grey tinge to the mantle instead of being solid black. Juveniles have a plain grey head with a hint of the white eyebrow.
Similar Species
Easily distinguished from the local races of White Wagtail (M. a. lugens and M. a. leucopsis) by its head pattern. M. a. lugens has white ear-coverts and black eye-line. M. a. leucopsis has an all white throat and face. Japanese Wagtail most closely resembles the White-browed Wagtail of the Indian subcontinent, but that species lacks the white forehead and chin and has less white in its wing.
Distribution
Breeds throughout Japan Islands from Hokkaido to Iriomote-jima.; migrates to China, Korea and Taiwan
Habitat
Near fresh water. More tied to water than White Wagtail.
Taxonomy
This is a monotypic species[1]. Formerly considered to be a subspecies of White Wagtail.
Behaviour
Actions
Forages mainly by walking and picking prey from the ground but also leaps into the air after flying insects.
Breeding
Nests on river gravels, often in the open. Pairs stay together throughout the year. Two to three broods annually. Nest is a cup of leaves, rootlets and grass stemes, lined with finer material. Nest usually located on riverbank or gravel shoal, but sometimes under the eaves of buildings. Clutch of four to seven eggs.
Diet
They eat primarily Arthropods; insects include flies (Diptera), and especially craneflies (Tipulidae) as well as spiders.
Movements
Northern populations (northern Hokkaido) move south and west in autumn; non-breeding visitor to Ryukyu Is, and a few migrate to South Korea, China and Taiwan.
Vocalisations
Buzzing di or ji in flight. Song long and somewhat rambling but with distinct buzzing quality and lots of t's, b's and z's included. Males sing all year round except for November and December.
References
Clements, J. F., T. S. Schulenberg, M. J. Iliff, D. Roberson, T. A. Fredericks, B. L. Sullivan, and C. L. Wood. 2018. The eBird/Clements checklist of birds of the world: v2018. Downloaded from http://www.birds.cornell.edu/clementschecklist/download/
Alström, P. & Mild, K. (2003) Pipits & Wagtails of Europe, Asia and North America. Identification and Systematics. Christopher Helm, London.
Tyler, S. (2019). Japanese Wagtail (Motacilla grandis). In: del Hoyo, J., Elliott, A., Sargatal, J., Christie, D.A. & de Juana, E. (eds.). Handbook of the Birds of the World Alive. Lynx Edicions, Barcelona. (retrieved from https://www.hbw.com/node/57823 on 29 March 2019).
Recommended Citation
External Links