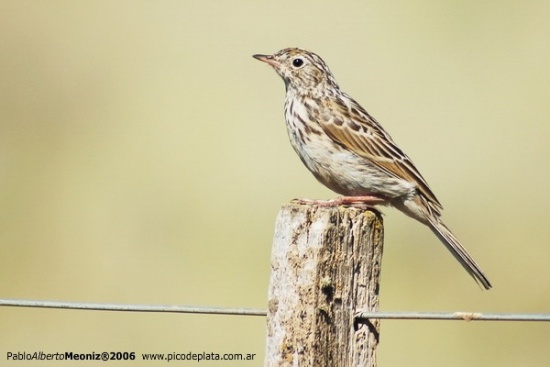 Anthus hellmayri
Identification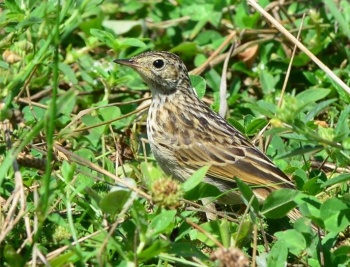 14-14.8 cm (5½-6 in). A smallish pipit.
Dusky-streaked whitish eyering and supercilium
Small blackish moustachial stripe
Pale buff upperparts with bold blackish-brown streaks
Dusky wings, primaries and tertials edged whitish, secondaries edged buff (forming patch), wing-coverts edged buff (two wingbars)
Dusky tail
White throat
Buffy white underparts with dusky streaks on breast and flanks
Buffy white underwing-coverts
Sexes similar. Juveniles with whitish feather edges on upperparts and more buff below.
Similar species
Short-billed Pipit has less bold streaks on back, wider breast streak and a prominent malar stripe. Paramo Pipit has more buff upperparts with darker streaks, and darker underparts with less extensive and paler streaks.
Distribution
Southern South America: in southern Peru, Bolivia, Argentina, southeast Brazil, Uruguay and Chile.
Locally common.
Taxonomy
Subspecies
Three subspecies recognized[1]:
A. h. dabbenei in the Andes of western Argentina (western Neuquén and western Chubut) and adjacent Chile
Recent DNA studies suggest that the nominate subspecies and brasilianus may be distinctive enough to represent two separate species.
Habitat
Found in grassland. Often in moist puna in the western part of its range up to 3700 m, in rocky hillsides, pastures and agricultural land in the eastern parts of its range, up to 750 m, locally higher.
Behaviour
Diet
Picks insect from the ground or from short vegetation in grassland.
Breeding
Breeding season November to January in Bolivia. The male makes a short display-flight, climbing up vertically while singing and then making a spiralling descent in wide circles with wings held high. No more information about breeding.
Movements
The subspecies dabbenei migrates north in the austral winter. Other subspecies are resident.
References
Clements, J. F., T. S. Schulenberg, M. J. Iliff, D. Roberson, T. A. Fredericks, B. L. Sullivan, and C. L. Wood. 2017. The eBird/Clements checklist of birds of the world: v2017, with updates to August 2017. Downloaded from http://www.birds.cornell.edu/clementschecklist/download/
Gill, F and D Donsker (Eds). 2015. IOC World Bird Names (version 5.2). Available at http://www.worldbirdnames.org/.
Handbook of the Birds of the World Alive (retrieved July 2015)
Recommended Citation
External Links