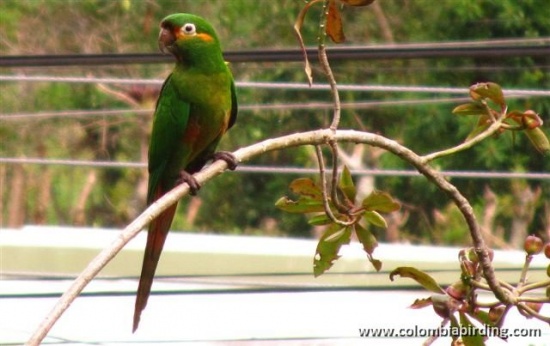 Leptosittaca branickii
Identification
Length 35 cm
Yellow feathers at the ears form tufts.
Bill is pale (brown in juveniles).
Distribution
South America: found in southern Colombia, Ecuador, and central Peru.
Taxonomy
This is a monotypic species[1], which is sometimes placed in genus Aratinga.
Habitat
Cloud forest and more open areas.
Behaviour
Diet
Their diet consists of fruit and seeds.
References
Clements, J. F., T. S. Schulenberg, M. J. Iliff, B.L. Sullivan, C. L. Wood, and D. Roberson. 2013. The eBird/Clements checklist of birds of the world: Version 6.8., with updates to August 2013. Downloaded from http://www.birds.cornell.edu/clementschecklist/download/
Handbook of the Birds of the World Alive (retrieved May 2014)
Recommended Citation
External Links