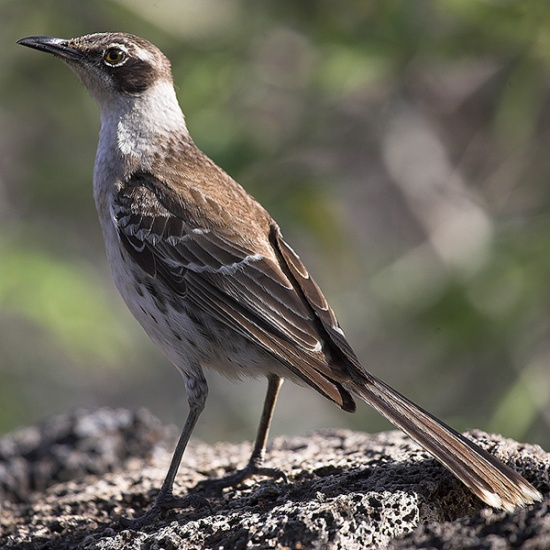 Mimus parvulus
Nesomimus parvulus
Identification
25–26 cm (9¾-10¼ in)
Distribution
Galapagos Islands endemic
Taxonomy
Placed in genus Nesomimus by some authorities.
Subspecies
Six subspecies are recognized[1]:
Main Galapagos Islands except extreme eastern islands
Barrington (Galapagos Islands)
Galapagos Islands (Abingdon, Bindloe, James and Jervis)
Wenman (Galapagos Islands)
Culpepper (Galapagos Islands)
Tower = Genovesa (Galapagos Islands)
The last subspecies (M. p. bauri) has most of its genome similar to other subspecies of this species, but a few regions indicate past hybridization with introgression of some DNA from San Cristobal Mockingbird[2]. This taxon may be undergoing speciation.
Habitat
They are to be found in a variety of habitats, including low coastal scrub, and light deciduous woodland.
Behaviour
Inquisitive
Diet
Omnivorous. They mostly eat arthropods, including caterpillars also fruit and nectar.
References
Clements, J. F., T. S. Schulenberg, M. J. Iliff, D. Roberson, T. A. Fredericks, B. L. Sullivan, and C. L. Wood. 2017. The eBird/Clements checklist of birds of the world: v2017, with updates to August 2017. Downloaded from http://www.birds.cornell.edu/clementschecklist/download/
Birdforum thread containing discussion of Mockingbird taxonomy, with post 11 relevant to this page
BF Member observations
Handbook of the Birds of the World Alive (retrieved Dec 2017)
Recommended Citation
External Links
GSearch checked for 2020 platform.1