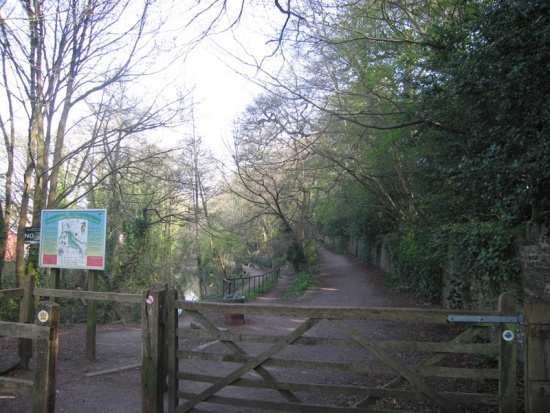 Overview
Forest Farm and the local nature reserve is a designated country park that covers an area of over 150 acres. Formed in 1967, it comprises a disused section of the Glamorganshire Canal (constructed 1794), the Long Wood (designated as a Site of Special Scientific Interest) and an area of the flood plain of the River Taff. Also known as the Glamorganshire Canal local nature reserve, it is more commonly referred to as Forest Farm, the old farm buildings being used to support the reserve. The local nature reserve is now an important aquatic wild life resource, as well as an ancient semi natural woodland.
The Nature Reserve provides a diversity of different habitats including ponds, marsh area, scrub and more recent woodlands each with their own distinctive flora and fauna. The vegetation on the canal is luxuriant in the summer and in order to prevent silting large numbers of water plants have to be removed annually. A series of ponds and scrapes or winter wetlands have also been created in recent years which can be viewed from two bird hides.
Birds
Notable Species
Forest Farm is notable for some very special species. Kingfishers are the prime attraction near the bird hides, where they are often seen overlooking the scrapes, especially once the reeds have been cut back in September/October. Bitterns come and stay every year, along with Grey Herons, Little Grebes, and Snipes, as well as a varied selection of birds not so common. Most species are thought to breed on site and continue to do annually.
Check-list
Birds you can see here include:
Mute Swan, Canada Goose, Mallard, Teal, Goosander, Great Cormorant, Little Egret, Grey Heron, Little Grebe, Common Swift, Sparrowhawk, Common Buzzard, Water Rail, Eurasian Coot, Moorhen, Common Snipe, Black-headed Gull, Lesser Black-backed Gull, Herring Gull, Common Woodpigeon, Stock Dove, Collared Dove, Tawny Owl, Common Kingfisher, Great Spotted Woodpecker, Green Woodpecker, Grey Wagtail, Pied Wagtail, White-throated Dipper, House Sparrow, Dunnock, Eurasian Wren, European Robin, Eurasian Blackbird, Song Thrush, Mistle Thrush, Redwing, Common Reed Warbler, Blackcap, Garden Warbler, Goldcrest, Cetti's Warbler, Long-tailed Tit, Coal Tit, Blue Tit, Great Tit, Eurasian Treecreeper, Eurasian Nuthatch, Eurasian Jay, Jackdaw, Carrion Crow, Eurasian Magpie, Chaffinch, European Greenfinch, European Goldfinch, Eurasian Bullfinch, Eurasian Linnet, Common Reed Bunting
Other Wildlife
The reserve is also excellent to see other wildlife. The reserve is well known for its foxes who sometimes make themselves appear by wandering around the open grasslands and past the two reserve hides. The reserve also has the typical grey squirrels and rabbits.
As well as the mammals the reserve also has its variety of insect life. The reserve has a variety of Damselflies and Dragonflies, you can also see butterflies such as the Speckled Wood, Comma and Painted Lady.
Site Information
History and Use
In the 17th Century goods were transported, the construction of the horse drawn light railway can still be seen today. The canal was a major engineering feature it covered 25 miles and had a height of 568ft above sea level through the construction of 52 locks. Remnants of two locks still exist on the Glamorganshire Local Nature Reserve by 1890 it ceased to run at a profit and closed down in 1942. Some of the works still remain today.
The nature reserve was formed in 1967 and in 1990 a group later calling themselves the friends of Forest Farm was formed to contribute in whatever way possible to the protection and development of the Glamorgan Canal Local Nature Reserve and Forest Farm, and to promote the study of flora and fauna in their natural habitat.
Areas of Interest
The two hides are particularly interesting as often the Common Kingfisher and the Great Bittern with many other uncommon birds have been reported. Another hide exists in the shed near the warden centre, overlooking bird feeders which are frequented by a variety of songbirds. Nearby there is also a heronry located between the Asda car park and the disused Coryton railway cutting.
Access and Facilities
From A470 and M4 jnct 32): Follow signs from Coryton Interchange past ASDA and Forest Farm Industrial Estate. Car Parking on both sides of the road. South Wales From Whitchurch/Cardiff: Take Forest Farm Road via Velindre Road past Velindre Hospital entrance. Parking Velindre Road past Velindre Hospital entrance.
Parking ::: available on Forest Farm picnic site adjacent to the farm. Car parking at Radyr railway station. Walk to the farm over the foot bridge.
Taff Trail runs past the farm - the way is marked from Cardiff Castle and also from Pontypridd.
Co-ordinates: ST1306805
Contact Details
External Links
Content and images originally posted by TheBirdGarden