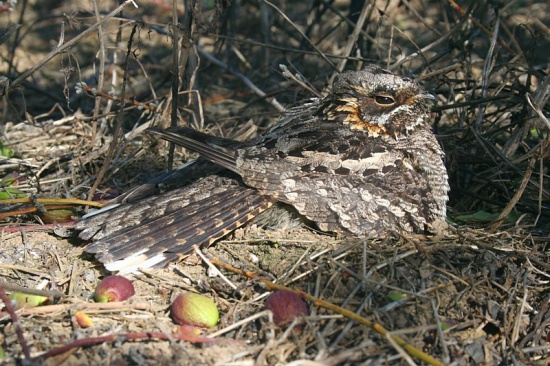 Includes Black-shouldered Nightjar
Caprimulgus pectoralis
Identification
Length 23-25 cm; mass 46-66 g.
Adult male: Crown grey with silvery speckles and black stripes; nape (broad nuchal collar) rufous to tawny with black and buff speckles; rest of upperparts greyish brown with black patches. Tail dark brown with greyish central feathers; the outer two pairs of rectrices have broad white tips. The moustache and triangular throat patch are white. Bill black and eyes, legs and feet dark brown. White wing-patches conspicuous in flight (as in most African nightjars).
Adult female: Similar to the male, but the white wing patches may be buffy, and the white tail patches are smaller.
Variation
Subspecies differ in how obvious the pale collar around the neck and throat is, as well as in overall color and barring on underside.
Distribution
Africa south of the Sahara.
Taxonomy
Subspecies
There are 5 supspecies[1]:
C. p. nigriscapularis: Senegambia east, patchily, to southern South Sudan, Uganda, extreme western Kenya, southwestern and eastern Democratic Republic of the Congo, Rwanda, Burundi, and northwestern Tanzania
C. p. fervidus: Southern Angola to northern Namibia, Botswana, Zimbabwe and north-eastern South Africa
C. p. crepusculans: South-eastern Zimbabwe to Mozambique, eSwatini and eastern South Africa
C. p. pectoralis: Southern South Africa
Subspecies nigriscapularis was formerly considered a full species, Black-shouldered Nightjar.
Habitat
Woodland, savanna, timber plantations and gardens.
Behaviour
Vocalisation
The song is a characteristic whistle Good Lord, deliver us - an iconic sound of the African night.
References
Clements, J. F., T. S. Schulenberg, M. J. Iliff, T. A. Fredericks, J. A. Gerbracht, D. Lepage, S. M. Billerman, B. L. Sullivan, and C. L. Wood. 2022. The eBird/Clements checklist of Birds of the World: v2022. Downloaded from https://www.birds.cornell.edu/clementschecklist/download/
Gill, F, D Donsker, and P Rasmussen (Eds). 2023. IOC World Bird List (v 13.1)_red. Doi 10.14344/IOC.ML.13.1. http://www.worldbirdnames.org/
Recommended Citation
External Links
GSearch checked for 2020 platform.1