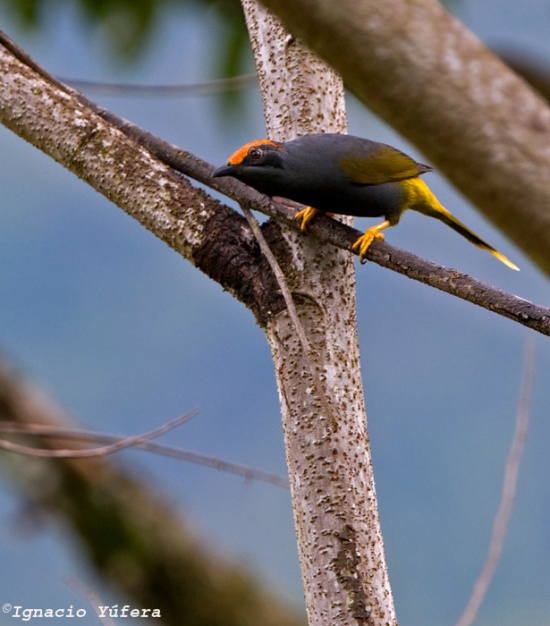 Alternative names: Fiery-browed Starling; Flame-browed Starling; Celebes Myna
Enodes erythrophris
Identification
27cm. A medium-sized starling with a long, strongly graduated tail and a distinctive coloured plumage.
Bright orange-red band from nares backwards over and behind eye
Black patch below and behind eye
Dark charcoal-grey rest of head and upperparts
Golden-yellow rump
Olive-green to olive-brown wings
Brown tail tinged with olive-yellow
Charcoal-grey underparts except golden-yellow thighs and undertail-coverts
Pale yellow or sepia eye
Black bill
Sulphur-yellow eye
Sexes similar. Juveniles are browner, the superciliary stripe is narrower and more yellow than orange-red.
Distribution
Endemic to Sulawesi, Indonesia.
A generally common and widespread restricted-range species.
Taxonomy
Regarded as monotypic by some authorities[1], others[2] recognize three subspecies:
E. e. erythrophris in northern Sulawesi
E. e. centralis in north-central and southeastern Sulawesi
E. e. leptorhynchus in central Sulawesi
Habitat
Montane forest, also lowland and elfin moss forest. Sometimes at forest edge or in selectively logged areas.
Most numerous at 1000 - 1500m, but occurs up to 2300m.
Behaviour
Usually seen in pairs or trios, sometimes in bigger flocks.
Associates with Sulawesi Myna and Finch-billed Myna at fruiting trees.
Diet
Omnivorous, feeds on fruit and invertebrates.
Breeding
No information about breeding. Probably breeds in tree holes.
Movements
A resident species with some local movements.
References
Clements, J. F., T. S. Schulenberg, M. J. Iliff, B.L. Sullivan, C. L. Wood, and D. Roberson. 2013. The eBird/Clements checklist of birds of the world: Version 6.8., with updates to August 2013. Downloaded from http://www.birds.cornell.edu/clementschecklist/download/
Del Hoyo, J, A Elliott, and D Christie, eds. 2009. Handbook of the Birds of the World. Volume 14: Bush-shrikes to Old World Sparrows. Barcelona: Lynx Edicions. ISBN 978-8496553507
Recommended Citation
External Links