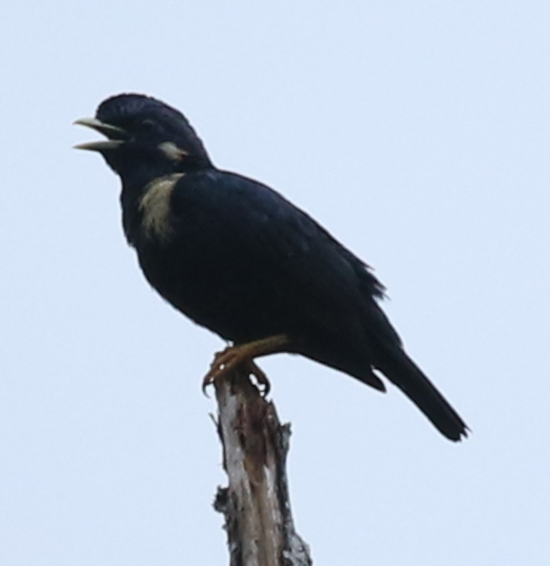 Alternative names: Celebes Myna; Sulawesi Crested Myna; Sulawesi King Starling; Short-crested Myna
Basilornis celebensis
Identification
25cm. A distinctive Myna.
Rigid crest formed by feathers of forehead, crown and nape
head glossy violet-blue
lower ear-coverts with White patch
upperparts and underparts black with green iridescence on feather tips
side of breast has a white patch
eye brown-red
bill ale greenish-blue
legs lemon-yellow
Sexes similar. Juveniles are chocolate-brown and appear streaked on underparts.
Distribution
Found on Sulawesi, Indonesia and adjacent islands (Lembeh, Muna and Buton).
A restricted-range species. Population size unknown, reported as rare to not uncommon.
Taxonomy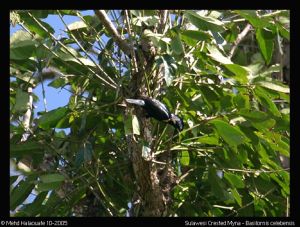 This is a monotypic species.
May form a superspecies with Helmeted Myna and Long-crested Myna.
Habitat
Primary rainforest and woodland. Also seen in secondary forest, forest edge and clearings. Occurs up to 1200m, mostly below 1000m.
Behaviour
Omnivorous. Feeds on fruit and animal matter (invertebrates and small vertebrates).
No information about breeding.
Presumably a resident species.
References
Clements, JF. 2009. The Clements Checklist of Birds of the World. 6th ed., with updates to December 2009. Ithaca: Cornell Univ. Press. ISBN 978-0801445019.
Del Hoyo, J, A Elliott, and D Christie, eds. 2009. Handbook of the Birds of the World. Volume 14: Bush-shrikes to Old World Sparrows. Barcelona: Lynx Edicions. ISBN 978-8496553507
Recommended Citation
External Links