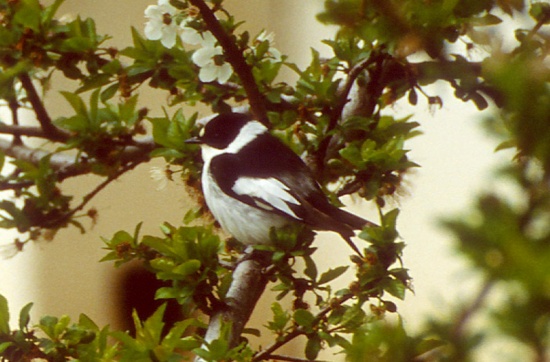 Ficedula albicollis
Identification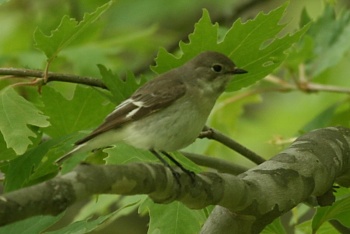 12-13.5 cm (4¾-5¼ in)
Male

Black upperparts, tail and bill
White underparts, collar, large wing patch and forehead
Pale rump

Female and non breeding male - pale brown above, with white wing bars. White below.
Similar Species
The female European Pied Flycatcher has a very insignificant pale vertical mark leading from the white wing bar - in the female Collared this is noticeably broader and leads almost to the edge of the wing.
Beware hybrid Pied × Collared which can look like Semicollared Flycatcher.
Distribution
Breeds eastern France to the Balkans and Ukraine. Winters in tropical and southern Africa (south of the equator).
Taxonomy
This is a monotypic species[1].
Habitat
Deciduous woodlands, parks and gardens.
Behaviour
Diet
The diet includes insects hawked aerially, caterpillars and berries.
Breeding
They nest in tree cavities; 5-7 eggs are laid.
Vocalisation
Song: a squeaky tsee-tsee-tsee-sui-see
References
Clements, J. F., T. S. Schulenberg, M. J. Iliff, S. M. Billerman, T. A. Fredericks, B. L. Sullivan, and C. L. Wood. 2019. The eBird/Clements Checklist of Birds of the World: v2019. Downloaded from http://www.birds.cornell.edu/clementschecklist/download/
Collins Bird Guide ISBN 0 00 219728 6
Collins Field Guide 5th Edition
Recommended Citation
External Links
GSearch checked for 2020 platform.