This article is incomplete.
This article is missing one or more sections. You can help the BirdForum Opus by expanding it.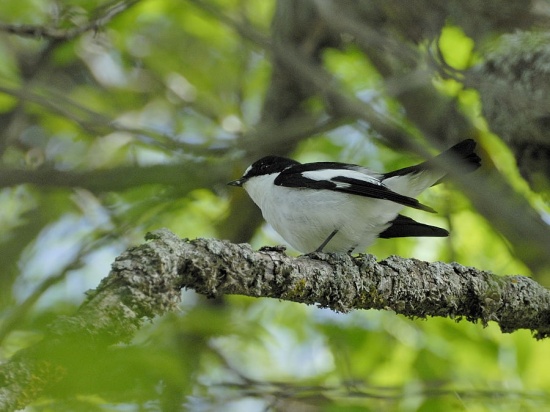 Ficedula speculigera
Identification
12-13 cm

Adult breeding male
Black and white.
Large white forehead patch, reaching back almost to a line through the middle of the eye. The largest white forehead of all 'Pied Flycatchers'.
Occasional birds may show a very thin complete white collar but the majority just have the white reaching as far back as the rear of the earcoverts.
The majority show a black rump with the odd bird having a narrow, slightly paler one.
Large white wing patches. Greater upperwing coverts entirely white, large white patch at the base of the primaries reaching the leading edge, tertials as other 'Pied Flycatchers'.
White Underparts
Entirely black tail with no white outer tail feathers.

Adult Female
Very like female Collared Flycatcher but greyer back, paler rump and uppertail often darker / blackish.
Confusion Species
European Pied Flycatcher, Semicollared Flycatcher, Collared Flycatcher
Distribution
Found in Morocco, northern Algeria and northern Tunisia.
Winters in West Africa
Taxonomy
This is a monotypic species[1].
Has formerly been considered to be a subspecies of European Pied Flycatcher.
Habitat
Very similar to European Pied Flycatcher, woods and orchards in the Atlas Mountains of NE Africa.
Behaviour
References
Clements, J. F., T. S. Schulenberg, M. J. Iliff, B.L. Sullivan, C. L. Wood, and D. Roberson. 2012. The eBird/Clements Checklist of Birds of the World. 6th ed., with updates to October 2012. Ithaca: Cornell Univ. Press. ISBN 978-0801445019. Spreadsheet available at http://www.birds.cornell.edu/clementschecklist/downloadable-clements-checklist
Recommended Citation
External Links
GSearch checked for 2020 platform.