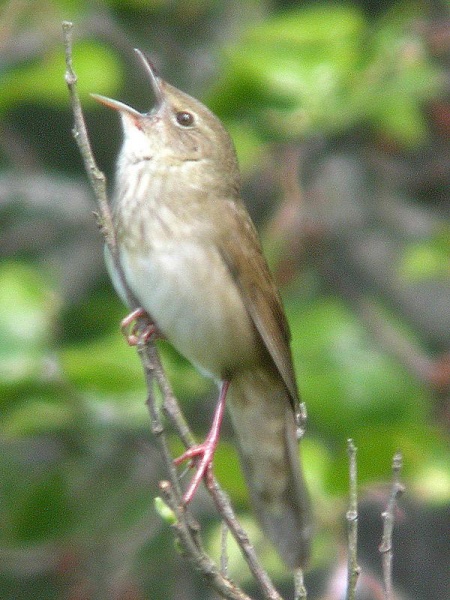 Locustella fluviatilis
Identification
14 cm (5½ in)

Dark grey-brown above
Whitish-grey below
Blurry streaks on throat and chest
Olive tinged greyish brown flanks
Short buffish supercilium
Pale eye ring
Broad rounded tail
Dark undertail with white tips
Pink legs
Dark bill

Sexes similar
Juveniles may show more yellowy underparts
Distribution
Breeds from central Germany east to the Urals and north-central Russia, ranges north to southern Finland and south to the Black Sea. Range has expanded westwards during the second half of the 20th century and has bred in Denmark and Sweden. Also spreading southwards and now breeds widely in Bulgaria.
Winters mainly in the eastern half of southern Africa, leaving from the end of July-August with bulk of the population passing through southeast Europe in late August-mid September. Returns to breeding areas in May.
Vagrants recorded north to Svalbard and Iceland, Britain, France and Belgium, Netherlands, Norway and Switzerland, Italy, Egypt and Kuwait, Malta, Madeira and northwest Africa.
British records (c.30) were formerly mostly in autumn and often on Shetland but in recent years there has been an increase in mainland records in spring and summer which have included singing males. With the expansion of range in northern Europe this suggests a breeding attempt may well occur in the near future. Has probably attempted breeding in Belgium in recent years.
Taxonomy
This is a monotypic species[1].
Habitat
Densely wooded swamps and thick scrub along rivers, streams and canals, sometimes in parks and damp orchards.
Behaviour
Sings all day from the top of a bush
Diet
The diet includes insects.
Breeding
It nests in a tussock or on the ground in moist undergrowth; 5-7 eggs are laid.
Vocalisation
Song: is similar to, but softer and slower, than Grasshopper Warbler
Call: low and harsh zrr and tschick
References
Clements, J. F., T. S. Schulenberg, M. J. Iliff, D. Roberson, T. A. Fredericks, B. L. Sullivan, and C. L. Wood. 2018. The eBird/Clements checklist of birds of the world: v2018. Downloaded from http://www.birds.cornell.edu/clementschecklist/download/
Wikipedia
Collins Field Guide 5th Edition
Collins Bird Guide ISBN 0 00 219728 6
Recommended Citation
External Links