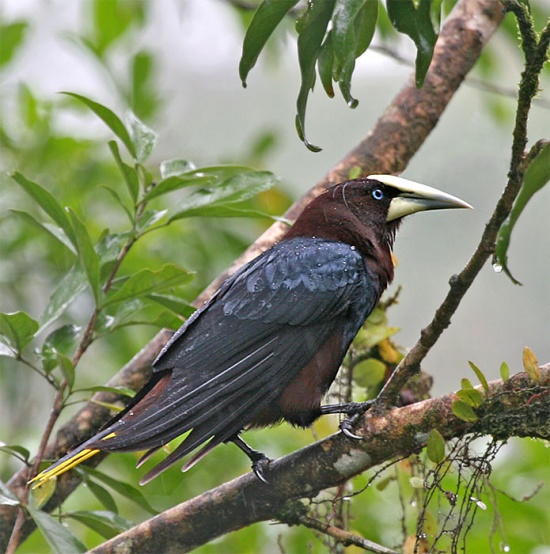 Psarocolius wagleri
Identification
Length: 11-14" (28-36 cm)
Head, neck, rump, lower belly, chestnut; tail yellow with dark center feathers and outermost webs of outermost feathers; otherwise black. Ivory to yellowish bill, blue eye.
Similar species
Crested Oropendola is larger, head black as body, chestnut on underside limited to undertail coverts, and only shows dusky central tail feathers while the outer tail feathers are all yellow.
Distribution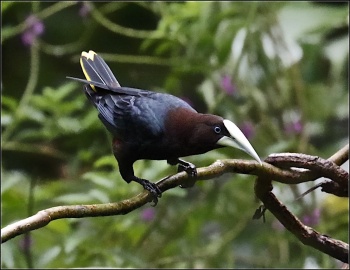 Central and South America
Central America: South-eastern Mexico, Guatemala, Belize, El Salvador, Honduras, Nicaragua, Costa Rica and Panama
South America: Colombia and Ecuador.
Taxonomy
This species is sometimes placed as the only species in the genus Zarhynchus.
Subspecies
Two subspecies are recognized[1]:
Habitat
Lowland habitats from rainforests to roadside trees
Behaviour
Forages mostly high in canopy, hopping and running along branches with speed and agility.
Diet
Their diet consists of frogs and lizards, insects and arthropods. They also eat fruit and nectar from large flowers.
Breeding
They are polygynous; nesting is colonially in isolated trees or groves.
References
Clements, J. F., T. S. Schulenberg, M. J. Iliff, D. Roberson, T. A. Fredericks, B. L. Sullivan, and C. L. Wood. 2017. The eBird/Clements checklist of birds of the world: v2017, with updates to August 2017. Downloaded from http://www.birds.cornell.edu/clementschecklist/download/
Avibase
Ridgely & Gwynne 1989. Birds of Panama. Princeton Paperbacks. ISBN 0691025126
BF Member observations
Recommended Citation
External Links
Search the Gallery using the scientific name:
Search the Gallery using the common name:
GSearch checked for 2020 platform.